Woman Reads Playboy for the Blind (And Not Just the Articles)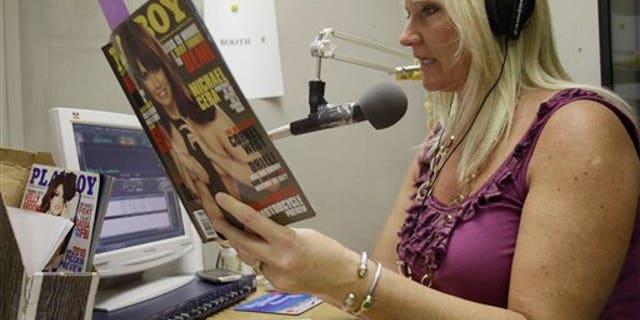 Suzi Hanks reads Playboy magazine for the articles. And the jokes. And the letters and cartoons.
And yes, for the pictures.
Each week, for an hour, Hanks snuggles close to a microphone in a tiny soundproof closet, reading - and describing in great detail - portions of the latest Playboy issue for the blind.
"I don't have to try to read it sexy," laughs Hanks, one of about 200 volunteers at Houston-based Taping For The Blind, Inc. "I just read it, and I'm a woman, and that's pretty much sexy."
Hanks, a tall, blonde California native whose regular job is reading the news for a classic rock station in Houston, declined to disclose her age, but said she once "chickened out" of an offer to pose for Playboy for a feature on women in radio.
In a voice made for radio, she reads the articles and describes the photos without innuendo.
"I don't read it all cover-to-cover in order but I do read everything - all the articles, all the jokes, all the little cartoons, all the pictures, all the letters to the Advisor, all those things."
As for the photos, consider Miss August.
Hanks examines in great detail the magazine's trademark monthly centerfold subject. The picture becomes clear.
She is a "Latina, brunette with dark chocolate brown eyes. She has long curly brown hair. ... She is in the first photo sitting in the ocean.
"She has a very large grin on her face, pink lipstick. She has a small tattoo right over the small of her back over the dimple area that appears to be maybe some sort of tribal design. It is red. ... Her legs are kind of crossed. She is sitting in the water.
"Behind her shoulder, down past her arm, you can see her breast peeking out. ... There are no tan lines at all. She is not wearing any nail polish or jewelry or bathing suit or anything."
Asked later why she mentions nail polish, she replied: "Sometimes it's all they have on."
Hanks said describing Playboy models doesn't get repetitive.
"Each one is different," she said. "Each one is like a little snowflake. There are different poses or scenarios or features or attributes. Whatever is there. I try to describe what I see, so they get a picture in their head."
Krista Moser, executive director of Taping for The Blind, credits Hanks for the "classy way she does it. And that's really what we want our reader to do. She does it really well, being able to describe instantly and creatively."
"You have to be their eyes. And that's exactly what she is," Moser said.
While a text-only Braille edition of Playboy has been available for decades, Playboy spokesman Steve Mazeika said he wasn't aware of another service featuring the magazine like the one in Houston.
Bob Bartlett, 67, of Houston, was a regular Playboy reader for years before he became legally blind in 1981. He signed up for the radio service three years later.
"I listen to her every chance," he said. "It really is one of my favorite shows. Some people say it's filth. It's not. She helps me be current in pop culture."
Taping for The Blind is a nonprofit group that records and broadcasts dozens of newsweeklies, tabloids and other periodicals to thousands of blind people, primarily around Texas, 24 hours a day.
The programming is aired at no cost to more than 3,000 subscribers who have special radios that accept the organization's signal. It's also available online.
Playboy has been a staple of the lineup for some 15 years.
"I do think it's a lot more classy magazine than a lot of them out there," Moser said.
Moser acknowledges that when she came to the job three years ago, the idea of airing Playboy "sounded inappropriate to me." But after she heard it, "I liked it. It was very neutral. You know, this is good. I'm not offended."
Hanks had been reading pet magazines for a couple of years for Taping For The Blind when the Playboy spot opened up about a year ago.
"The guy who did Playboy got married and his wife didn't want him to do Playboy anymore," she said. "They just asked me."
She became the first woman to handle the assignment.
"What guy would want a man to read Playboy to him?" she said. "That would be a little strange. Doesn't that just give much more dimension if a woman is actually doing it? It's not a lurid lecherous guy slobbering all over it.
"It's a lurid lecherous woman," she laughed.