Tom Hanks captures essence of beloved Mr. Rogers in 'A Beautiful Day in the Neighborhood'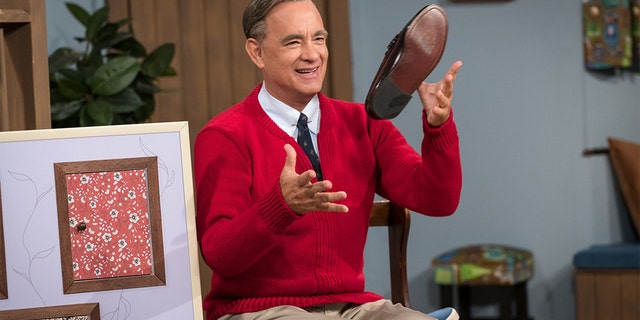 Who doesn't love Mr. Rogers? And who doesn't love Tom Hanks?
In a newly released photo of Tom Hanks dressed as Mr. Fred Rogers, viewers will be delighted to see how Hanks captures the essence of the beloved TV personality, whom he portrays in the upcoming movie "A Beautiful Day in the Neighborhood."
Donning the iconic red cardigan and khaki slacks along with the parted gray hairstyle, Hanks bares a striking resemblance to Mr. Rogers that will leave viewers feeling nostalgic over their childhood hero.
TOM HANKS SURPRISES WOMAN BY SINGING 'HAPPY BIRTHDAY' WHILE OUT TO DINNER
"A Beautiful Day in the Neighborhood" is a feature film inspired on the relationship between Rogers and Tom Junod, a jaded journalist who embarks on a life-changing experience when he takes on the assignment of writing Rogers' profile and spends some time with him.
Directed by Marielle Heller, the film shows the transformation of Lloyd Vogel – a journalist based on the likes of Junod – through his interactions with Mr. Rogers, and how Rogers taught Vogel valuable lessons in empathy and kindness.
TOM HANKS SURPRISES CUSTOMERS AT IN-N-OUT RESTAURANT IN CALIFORNIA WITH FREE MEALS
"I disliked that when it got announced it was characterized as [a biopic]. It's really not," said Hanks about the film. "It's a movie that's largely focused on a reporter and [Mr. Rogers'] relationship to his life, and how [the reporter's] whole world changes when coming in contact with Fred Rogers."
"A Beautiful Day in the Neighborhood" is set to be released on Nov. 22, 2019.
CLICK HERE TO GET THE FOX NEWS APP