Tom Cruise livens up what is otherwise a glorified 80s music video in 'Rock of Ages'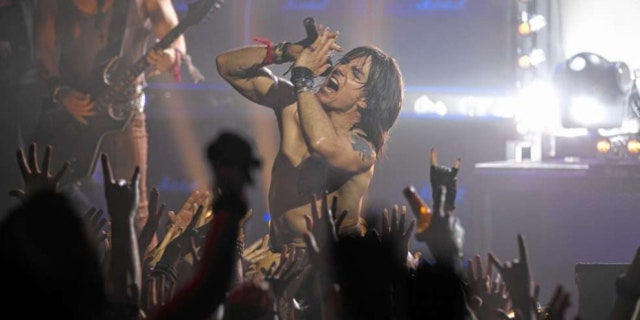 There are two reasons to see "Rock of Ages." One: If you live and breathe for 80s rock music. Two: A drugged up Tom Cruise belting out Bon Jovi.
Unfortunately, that's about it.
Based on the hit Broadway show, "Rock of Ages" boosts the amp on camp to 11. But director Adam Shankman raises his lighter to the rock gods a few too many times, giving us more an assemblage of newly choreographed music videos than a feature film.
"Rock of Ages" is set in 1987 Los Angeles, and does a decent job at reminding the audience that there was a time before boy bands, autotuning and Snooki, where big hair, sweat, acid-washed jeans and the pounding rhythms of Bon Jovi, Guns N' Roses, Joan Jett, Twisted Sister, Def Leppard and Journey ruled the airwaves.
Julianne Hough plays Sherrie Christian, an unblemished just-off-the-bus singer (who looks to be more at home listening to Barbara Mandrell than Guns N' Roses) who arrives in LA to become a star. The Sunset Strip immediate chews her up and spits her out, but she falls for Bourbon Room barback Drew (Diego Boneta), who has his sights on becoming the next Stacee Jaxx (Tom Cruise).
Cheesy and stereotypical are an understatement. Together these two make a pair of singing stick figures. Hough has the look of the bright-eyed, naïve newbie down. but her singing voice is very much misplaced in this world of 80s rock. Her tinny, farm-girl crooning is crushed under the weight these heavy-hitting songs.
The real draw is Tom Cruise, who once again tries to level us with his intensity. Cruise's Stacee Jaxx is like a quick shot of adrenaline to the chest of a comatose body. He's easily the most enjoyable character in the film, and the scenes without him beg for his vigor. Cruise's recent niche of quirky supporting roles suits him well.
For the most part, the songs are put to good use, especially 'I Want to Know What Love Is' with Cruise and Malin Akerman. Mary J. Blige's version of 'Anyway You Want It' is good fun, as is the overly critical Catherine Zeta-Jones' battle with Russell Brand to 'We Built This City' and 'We're Not Gonna Take It.'
So if you want a cheesy love story between your Rock n' Roll with non-musical actors like Alec Baldwin, Paul Giamatti and Tom Cruise, then "Rock of Ages" is right for you. A decent alternative, however, may be just hitting shuffle on your iTunes 80s playlist.