'The Voice' finale recap: Tessanne Chin owns night 1 with Whitney Houston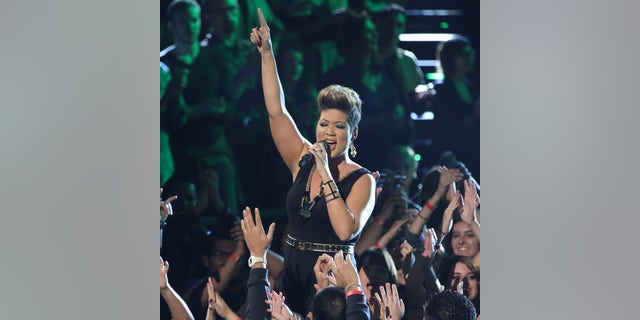 "The Voice" kicked off its two-night finale Dec. 16 with two hours of killer performances from the finalists – Tessanne Chin, Will Champlin and Jacquie Lee – as well as a few special guests. Though Will put on a good show, it quickly became a showdown between the two remaining ladies. Here are the highlights from the night:
Jacquie Lee triumphs with 'Back To Black'
The night began with Tessanne doing coach Adam Levine proud. Her performance of Pink's "Try" was a little low-energy, but she sang it well; and for what it's worth, it was the same song she used during the blind auditions. All in all, it was a nice reminder of just how much the three finalists have been through.
Also recalling his blind audition song, Will took the stage next, performing Gavin DeGraw's "Not Over You." His performance was on par with Tessanne's — solid, but not a mind-blower.
Now for the crazy part: relative underdog Jacquie blew both of the previous finalists away during her solo moment tonight. Returning to her own blind-audition roots, Jacquie absolutely nailed Amy Winehouse's "Black To Black."
Christina Aguilera and Jacquie Lee 'Remain' on top
Next came the duets between the mentors and their contestants, beginning with Adam and Tessanne. As expected, their performance of The Beatles' "Let It Be" was basically harmonious crack. Two powerful voices, two wonderful humans.
But that crack looked like crap by the time Christina Aguilera and Jacquie were done with their follow-up performance of "We Remain," Xtina's original song from "The Hunger Games: Catching Fire" soundtrack. (Seriously, though, when did underdog Jacquie become a major contender in this fight?)
Adam returned to the stage with Will for a terrific performance of Elton John's "Tiny Dancer."
Tessanne Chin takes the night with 'Nothing'
The final round of the night was when each contestant really got a chance to shine. Tessanne took on the Whitney Houston classic "I Who Have Nothing," and the result was pure magic. Countless fans, including Debra Messing, lavished Tessanne with praise on Twitter; the former "Smash" star tweeted:
Will stepped up to the mic next, lulling the audience with an extremely heartfelt cover of Bryan Adams' "Everything I Do."
Jacquie ended the night with an on-the-nose performance of Jennifer Holliday's "And I Am Telling You I'm Not Going," obviously chosen by coach Christina. The performance was solid, but as far as last impressions go, this final round went to Tessanne.
The winner will be announced on Tuesday night.