The Voice: Christina Aguilera Performs With her Team; Raquel Castro Amazes at the Live Shows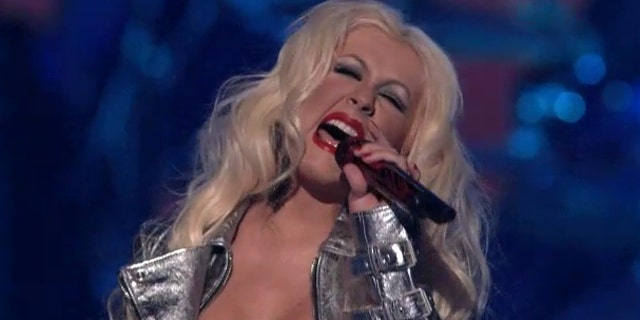 Christina Aguilera turned up the heat on the first round of the Live Shows on The Voice.
The blonde bombshell started the two hour show by singing Freddie Mercury's 1977 song, "We Are The Champions," with her fellow coaches. She hit the stage wearing Daisy Duke leather shorts and heels.
With an air of confidence, Aguilera then watched the members of her team battle country star Blake Sheldon's team.
The two coaches trained the members of their team for individual live performances. The nation and the coaches will then vote on who goes home this week based on these performances.
The winner is promised a recording contract with Universal Records.
"I have no worries, boys," Aguilera told the other coaches.
She is the only female coach, and she also happens to have an all female team.
"I couldn't be more thrilled about tonight," she added. "You better watch out because my girls are coming for you.
"I'm very proud of them," she continued. "I want them to take it to the next level. I put together a strong team of female vocalists."
Raquel Castro was up first. Looking flawless in a sparkly short dress and pumps, she performed Ke$ha's "Blow" – a song Aguilera believed fit the type of artist Castro aspires to become.
"I wanted to give her a song that I can see her dance," Aguilera said. "Raquel is a dynamo."
Castro was content with the song choice and wanted to make the viewers at home and her "Momma Coach" proud.
"My goal is to show America I can sing, I can dance," said Castro. "I just hope I don't let anyone down."
Like a pro, the Long Island native shook hands with the crowd while performing. Aguilera was up on her feet dancing the entire time.
Fellow coach Cee Lo Green was amazed with Castro's rendition of Ke$sha's tune. The others agreed.
"There's no lying in live television. That was amazing," Green said.
Aguilera beamed with joy.
"You made me get up out of my chair and move," she said. "You did an amazing job. You brought the attitude and the sassiness."
The "Burlesque" star showed her girls a softer side by taking them to dinner as a team.
"I wouldn't trade any of the mishaps from the past year," said Aguilera, who, while singing the national anthem at the Super Bowl in February, recited the wrong lyrics. "I love you all."

Aguilera and her girls then got on stage and performed a sexy rendition of her song "Lady Marmalade."
"What you want, boys? Yes, ladies that's how it's done," Aguilera boasted when the performance was over, as the male coaches seemed impressed.
"Wow! That was amazing!" added host Carson Daly, seemingly speechless. "That was unbelievable."
You can reach Alexandra Gratereaux at: Alexandra.Gratereaux@foxnewslatino.com or via Twitter: @GalexLatino