'The Master' smashes box-office records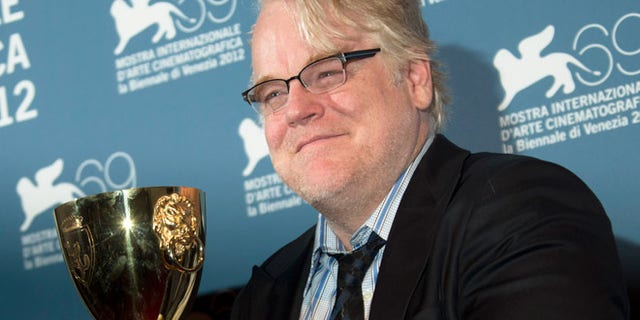 LOS ANGELES – Paul Thomas Anderson's cult drama "The Master" commanded a huge following in its opening weekend, smashing records on just a handful of screens.
The Weinstein Co. release made $729,745 in five theaters in New York and Los Angeles for a record-setting per-screen average of $145,949, according to Sunday studio estimates. The hugely anticipated film, which just won several of the top awards at the Venice Film Festival and will open in more cities in upcoming weeks, stars Philip Seymour Hoffman as a charismatic cult leader and Joaquin Phoenix as his wayward protege.
The No. 1 film at the box office was "Resident Evil: Retribution," which took in an estimated $21.1 million in its debut. This is the fifth film in the Sony Screen Gems action franchise, starring Milla Jovovich.
That topped the 3-D re-release of the Disney Pixar animated favorite "Finding Nemo," which opened in second place with $17.5 million.
The 3-D "Resident Evil: Retribution" was directed by Jovovich's husband, Paul W.S. Anderson, who has made three of the five films. It features the actress once again as the warrior Alice, the last hope for the human race as an evil corporation unleashes a deadly virus that creates more flesh-eating undead on a worldwide scale. And fittingly, the film performed even better internationally, where it made a healthy $50 million.
"You have to give so much credit for that to Milla," said Rory Bruer, Sony's head of distribution. "She's such an incredible star and absolutely just works so hard in every country. Whether it's Russia or Japan, everywhere she's gone, she's worked so hard in regards to making the franchise a success."
The re-do of "Finding Nemo" follows in a recent tradition of Disney converting its classic animated movies into 3-D for a whole new audience. The 2003 underwater comedy about a tiny, lost fish named Nemo, featuring the voices of Albert Brooks, Ellen DeGeneres and Willem Dafoe, won the Academy Award for best animated feature.
Paul Dergarabedian, box-office analyst for Hollywood.com, said the No. 1-opening for the latest "Resident Evil" movie came as a bit of a surprise. He figured "Finding Nemo" would come out on top, given the track record of the Pixar brand and the strong opening a year ago of Disney's "The Lion King" in 3-D, which debuted at No. 1 with $30.1 million.
"The Screen Gems label, they know how to create a profit-making franchise," Dergarabedian said. "It's become so important if you have a star who resonates in the international marketplace — you can have a real winner worldwide."
Last week's No. 1 movie, the Lionsgate exorcism thriller "The Possession," fell to third place with an estimated $5.8 million. It's now made about $41.2 million over the past three weeks.
Among the other new movies this weekend, "Arbitrage" opened in 12th place in limited release with nearly $2.1 million. Richard Gere stars as a hedge-fund billionaire juggling scandals that could destroy him personally and professionally.
The huge opening for "The Master" beats the per-screen-average record for a live-action feature debut set earlier this year by Wes Anderson's "Moonrise Kingdom," which made $522,996 when it opened on four screens in May for an average of $130,749.
Asked who the audience was for "The Master," Weinstein Co. president of theatrical distribution Erik Lomis said: "We didn't do exit polls but from eyeballing the ArcLight (Cinemas), everyone in Los Angeles showed up."
Part of the allure was the rare opportunity to see the film projected in lush 70mm, which was possible at four of the five locations where it was playing. Expertly paced trailers released over the past few months revealed nothing, and unannounced screenings in select cities created more buzz. And some of the film's mystique may have come from its parallels to the origins of the secretive Church of Scientology. Anderson has said the church's founder, L. Ron Hubbard, provided inspiration for Hoffman's character.
"We knew we would do a lot of business but we didn't think it would be this big," Lomis said. "We knew from not only the pop-up screenings and the guerrilla marketing PTA does but also from the Venice Film Festival and the Toronto (International) Film Festival that we had something special. But you can never expect these kinds of numbers — it blew the doors off the theaters."
As Dergarabedian phrased it: "Paul Thomas Anderson, among film buffs and film fans, is a directing god. He's on Mount Rushmore with Christopher Nolan and some other great filmmakers. When he puts out a movie, it's a long lead time — we're forced to wait for a new Paul Thomas Anderson film. 'There Will Be Blood' was 2007.
"In the independent world, directors are the stars," he added. "They draw people to the theater and fill theaters."
Estimated ticket sales for Friday through Sunday at U.S. and Canadian theaters, according to Hollywood.com. Where available, latest international numbers are also included. Final domestic figures will be released Monday.
1. "Resident Evil: Retribution," $21.1 million ($50 million international).
2. "Finding Nemo," $17.5 million.
3. "The Possession," $5.8 million.
4. "Lawless," $4.2 million.
5. "ParaNorman," $3 million.
6. "The Expendables 2," $3 million ($7.5 million international).
7. "The Words," $2.88 million.
8. "The Bourne Legacy," $2.875 million ($9.1 million international).
9. "The Odd Life of Timothy Green," $2.5 million.
10. "The Campaign," $2.4 million.
___
Estimated weekend ticket sales at international theaters (excluding the U.S. and Canada) for films distributed overseas by Hollywood studios, according to Rentrak:
1. "Resident Evil: Retribution," $50 million.
2. "The Bourne Legacy," $9.1 million.
3. "Masquerade," $8.3 million.
4. "Ted," $8.1 million.
5. "The Expendables 2," $7.5 million.
6. "Prometheus," $7.1 million.
7. (tie) "Brave," $6.9 million.
1. "Madagascar 3," $6.9 million.
2. "The Dark Knight Rises," $6.4 million.
3. "The Watch," $4.3 million.
___
Online:
http://www.hollywood.com
http://www.rentrak.com
___
Universal and Focus are owned by NBC Universal, a unit of Comcast Corp.; Sony, Columbia, Sony Screen Gems and Sony Pictures Classics are units of Sony Corp.; Paramount is owned by Viacom Inc.; Disney, Pixar and Marvel are owned by The Walt Disney Co.; Miramax is owned by Filmyard Holdings LLC; 20th Century Fox and Fox Searchlight are owned by News Corp.; Warner Bros. and New Line are units of Time Warner Inc.; MGM is owned by a group of former creditors including Highland Capital, Anchorage Advisors and Carl Icahn; Lionsgate is owned by Lions Gate Entertainment Corp.; IFC is owned by AMC Networks Inc.; Rogue is owned by Relativity Media LLC.