The Hottest '80s Video Vixens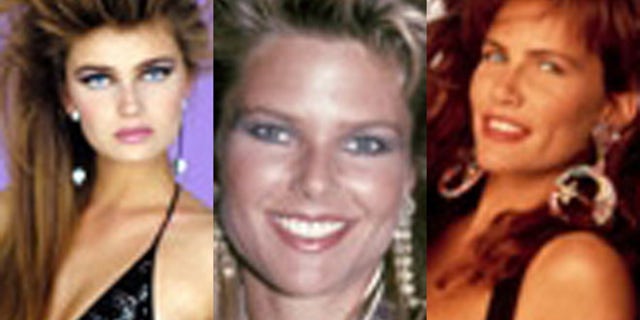 Ah, the good ol' days. MTV played videos, and those videos featured real people.
Better yet, most of those real people were hot-looking women who really had no business being in a video. Except for the fact that they were hot.
In all honesty, some weren't that hot.
Still, it was an '80s hallmark: the video vixen who distracted us from the band that was always a little self-conscious in front of the camera. You must remember, this was a pre-"American Idol" world, where musicians actually preferred singing for real in front of a crowd instead of lip-synching on camera (yes, I realize no one lip-synchs on "Idol," but you get my point).
The '80s video vixen kept the lame plots moving along. Every '80s video had to have a lame plot. Remember "Hello," where Lionel Richie was hot for the blind art student sculpting a bust of his head? Genius. Or Bruce Springsteen's gripping portrayal of an auto mechanic who longs for the woman with the busted Thunderbird in "I'm on Fire?" High drama.
Video vixens were as essential to a band's success as owning a pair of tight jeans and case of hair gel. Videos weren't about tons of half-naked dancers or a bunch of hip-hop hos around a pool. An '80s vixen stood on her own — single-handedly seducing lead singers and every teenage boy watching at home. She had more power in her shoulder pads than an entire army of line dancers possess in their collective stilettos.
Video Gallery: Watch the '80s MTV vixens in action.
Here are the finest of the breed and a look at how they now spend their post-vixen lives. Warning: video plot spoilers ahead.
Paulina Porizkova in The Cars' "Drive" (1984)
Porizkova was only 19 when she starred in this Timothy Hutton-directed video. Even though she was the object of bassist Ben Orr's affection (he sang lead on this song), it was bandleader Ric Ocasek who really wanted her, even though he was 35 and married with kids. They finally tied the knot in '89 and have two kids of their own. To make ends meet she's done time on "America's Top Model" and "Dancing with the Stars."
Alicia Silverstone & Liv Tyler in Aerosmith's "Crazy" (1994)
Silverstone had already been in two Aerosmith videos when she starred as the runaway prep-school girl in "Crazy." She was joined by teenager Liv Tyler, making her video debut as Silverstone's horny schoolmate who works the pole at a strip club. She made her daddy, Steven, proud. These days Silverstone touts the benefits of being a vegan while Tyler co-starred in 2008's "The Incredible Hulk" remake. Clothed.
Courteney Cox in Bruce Springsteen's "Dancing in the Dark" (1984)
"Dancing in the Dark" proved to the world that the Boss couldn't dance. It also introduced the world to his new friend Courteney Cox, who got pulled out of the audience at the video's end. Yes, it was staged by director Brian DePalma. No, Springsteen didn't step on her feet. Things worked out pretty well for Cox afterward.
Christie Brinkley in Billy Joel's "Uptown Girl" (1983)
A lot of people were scratching their heads when Billy Joel started dating supermodel Christie Brinkley. Joel apparently got the irony as well — he cast himself as a grease monkey vying for the attention of "uptown girl" Brinkley in this video for his "An Innocent Man" album. They married two years later and divorced in '94. Brinkley hasn't had much luck with husbands since.
Tawny Kitaen in Whitesnake's "Here I Go Again" (1987)
The only hair bigger than David Coverdale's was Tawny Kitaen's. Actually, they were about the same. But Tawny had better legs and looked better doing splits on the hood of a Jaguar. The two had a short-lived marriage after the video — most of it presumably spent in the car's backseat. Her life since has been a sad combination of reality shows, drug rehab, and reality shows about drug rehab.
Ola Ray in Michael Jackson's "Thriller" (1983)
Ola almost convinced us that Jacko could be the boy next door with the girl next door. That is, until we discovered Ray was in a 1980 Playboy centerfold and that Michael would rather hang out with monkeys and Webster. Seems like Ray may have had a hard time earning cash in her post-"Thriller" life. She recently sued Jackson over video royalties.
Reema in Duran Duran's "Rio" (1982)
"Her name is Rio, and she dances on the sand." The girls were looking at Simon LeBon, but the boys (if there were any watching at all) were looking at the song's namesake. She was a London model named Reema. Maybe she got the gig 'cause her one-word name sounds a lot like "Rio." Regardless, she seems to have vanished. If anyone sees her, I'm producing this video...
Bunty Bailey in a-ha's "Take On Me" (1985)
Norway's a-ha was the first band to animate a vixen. Actress Bunty Bailey and lead singer Morten Harket enjoy a comic-book courtship before Harket's "Altered States" routine brings him into Bailey's 3-D world - and arms — at the end. They continued the love affair for real until Bailey reportedly dumped him for Billy Idol. It's a thin line between a vixen and a groupie. Bailey was last seen teaching dance in England. No word on her love life.
Jeana Tomasino, Kymberly Herrin & Danièle Arnaud in ZZ Top's "Legs" (1984)
ZZ Top's Frank, Dusty, and Billy knew how to get the ladies into their videos: let them touch the fuzzy, white guitars and give them the keys to the Eliminator. Chicks dig the Eliminator. Two of the girls - Tomasino and Herrin - were Playboy playmates. Arnaud looked good enough to be one even though she wasn't. Tomasino now sells real estate while Arnaud is a French teacher. There's definitely a video in there somewhere.
Lori Eastside in Elvis Costello and the Attractions' "The Only Flame in Town" (1984)
Here's the plot: a bunch of women turn up in a nightclub for a chance to win a date with Elvis and his band. I know, not so much of a prize. Daryl Hall enters and does his best to steal the women. Hilarity ensues. However, the coolest chick of all is the big one playing the saxophone. She's Lori Eastside, who was a vocalist with Kid Creole & the Coconuts. Now she's a New York casting agent, probably booking music-video vixens. What comes around, goes around.
More at GetBack.com: Worst Celebrity Fashions EVER