Sylvester Stallone and Arnold Schwarzenegger trade jabs at 'Expendables 2' event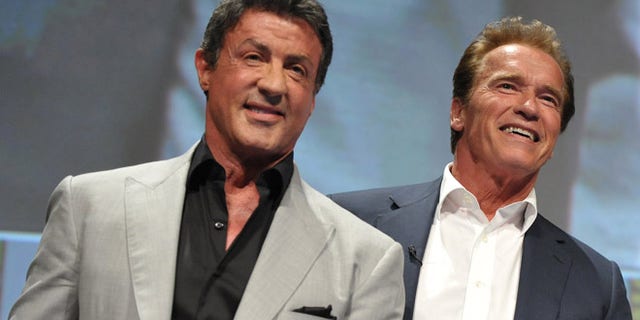 Could there be any doubt over what the first two words would be out of Arnold Schwarzenegger's mouth at Comic-Con?
"I'm back," said the former California governor, who has leaped back to acting with a series of upcoming action roles including "The Expendables 2," which Schwarzenegger came to promote at the fan convention.
Schwarzenegger joined fellow stars Sylvester Stallone, Dolph Lundgren, Terry Crews and Randy Couture on a panel to preview footage for Comic-Con.
READ: More news from Comic-Con.
Quoting his famous line from the "Terminator" films, Schwarzenegger said that after eight years away from action films while governor, he took some ribbing from his co-stars, who also included Bruce Willis, Jet Li, Chuck Norris, Jason Statham, Liam Hemsworth and Jean-Claude Van Damme.
"'Well, we know you've been out of the business for eight years. Let me show you how to load a gun again and, Arnold, here's how you throw a punch,"' Schwarzenegger recalled his co-stars joking.
But after the verbal sparring of state government, Schwarzenegger found he was able to pick up where he left off as an action star fairly fast, doing fun things like taking out a knife and killing a guy and cutting his head off.
"You wish you could do some of those things when you're in politics, but you know, you can't," Schwarzenegger said.
The sequel to Stallone's 2010 hit, "The Expendables 2" casts the band of tough guys into vengeance mode after they're betrayed on a mission. The movie arrives in theaters in Aug. 17.
After the preview, Comic-Con organizers presented their Inkpot Award honoring pop-culture contributions to Schwarzenegger, who also has filmed the crime thriller "The Last Stand" since leaving the governor's office.
Stallone, who also co-stars with Schwarzenegger in the upcoming prison thriller "The Tomb," recalled first meeting Schwarzenegger at the Golden Globes for 1977, when his boxing saga "Rocky" won for best picture and Schwarzenegger won as best new star for "Stay Hungry."
"Who is this guy as big as the whole table?" Stallone recalls wondering of former body-building champion Schwarzenegger. After hearing the Austrian's name called for his award, Stallone thought, "No one has a name like that. This guy is doomed, over, flash in the pan."
Schwarzenegger shot back that Stallone set the tone for his own accent-heavy acting career.
"When I came to America 44 years ago, Sly was my English teacher," Schwarzenegger said. "So blame him."
Stallone replied in classic Rocky monosyllables.
"Yo," he said. "Hey."