Student Protesters Stage Rally Opposing Tucker Max Film Screening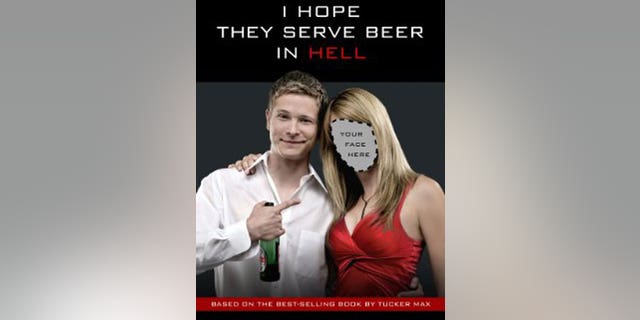 NEWYou can now listen to Fox News articles!
Nearly 100 silent protesters rallied in opposition to the early screening of the new film "I Hope They Serve Beer in Hell" on the campus of North Carolina State University Wednesday night.
The NC State Women's Center organized the protest in response to the school's decision to show the movie, which is based on author Tucker Max's best-selling book with the same title, chronicling his and friends' sexual behavior.
"Films and books like this serve a larger and more harmful purpose in that they objectify women and disrespect women," said Shannon Johnson, Director of the NC State Women's Center. "The real problem is that our culture accepts this as entertainment."
EXCLUSIVE PHOTOS: Scenes from the Tucker Max protest.
Some protesters held signs emphasizing a relationship between alcohol consumption and rape in plain sight of the men and women waiting in line to see the movie, and it is the sexual content of Tucker Max's stories that was at the heart of demonstration.
"There are actual people that (Tucker Max's) stories are about," said Juliette Grimmett, Rape Prevention Education Coordinator at the NC State Women's Center. "We're laughing about this, but this could be my mother, my sister, me, or my friend."
"Rape is not a joke," Tucker Max said in a post-screening question and answer session. "(The protesters) are devaluing the seriousness of an actual crime."
This isn't the first protest that Max has faced during his promotion tour. A screening in May at Ohio State University generated a strong vocal response from feminist groups.
But the NC State Women's Center decided that a silent protest would be more effective than a loud one.
"Tucker Max seems to feed off being very in-your-face," said Joslyn Brenton, an NC State graduate student who protested the film. "We respect everyone's choices, but we want to make our voices heard and the best way to do that is silently because our signs really send out our message."
The Women's Center showed an alternate film for protesters called "Spin the Bottle," an educational film about violence against women in the media and sexual violence in which alcohol was involved. A candlelight vigil was also held by the protestors after the movie to honor victims of sexual violence.
University administrators are still deciding which charity to donate the proceeds generated from the screening.
"It was a win-win for us," said Will Lamb, Films Committee Chairman for the Union Activities Board, a student-run group. "We got to enjoy the entertainment of the movie here, and others still got to get their message out."
Some female fans attending the screening thought that the protesters were making too big a deal about the associations with rape in the film.
"There was no rape at all in this film and everything was consensual," said Lachelle Gatson, a student at UNC-Wilmington who travelled to Raleigh for the screening. "I love Tucker Max because he is so funny and down to earth with his stories and experiences."
The filmgoers were shown a slideshow of rape and sexual violence stats inside the theater on the screen before the movie started, which drew sharp laughs and boos from the audience.