Stephanie Pratt's boyfriend arrested after he drives his Ferrari over cop's foot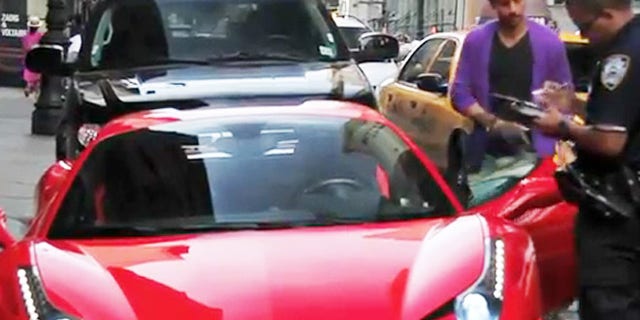 A rich playboy in a red Ferrari ran over the thin blue line yesterday as his reality-star girlfriend looked on, The Post reports.
Internet entrepreneur Julien Chabbott, 28, was arrested after he allegedly used his $260,000 luxury Spider to run over the foot of a cop writing him a ticket outside the tony Mercer hotel in SoHo yesterday, police sources said.
Chabbott's gal pal, Stephanie Pratt, 26, of MTV's "The Hills" fame, watched the ruckus. She retrieved some items from the Ferrari once the incident was over, then left.
[pullquote]
"Maybe it was just his ego or his attitude, but he should have just taken the ticket instead of causing a scene like he did," said Damian Morys, 17, who filmed the sports-car showdown.
Chabbott -- who started a social media business called "Line Snob" that gives information on wait times -- was charged with assault, vehicular assault, disorderly conduct and obstruction of governmental administration.
Chabbot had parked outside the tony hotel The Mercer on Saturday at about 6 p.m. when a police officer approached and began to write him summonses for parking in a no-parking zone and failing to have a registration or inspection sticker, police sources said.
Chabbott then tried to grab the officer's memo book -- and even got into the Ferrari after the cop told him not to, the sources said.
Once Chabbott got into his car, he inched the vehicle forward while the cop said, "Stop, stop!" After Chabbott ran over the cop's foot, the officer hit the driver-side window and yelled, "You ran down my f**king foot!"
The cop then yanked the door open, pulled Chabbott out by his purple cardigan and threw him up onto the vehicle's trunk.
"Assault a f---ing officer?" the officer bellowed as his partner came to help, and the two of them cuffed Chabbott face-down on the street.
The Ferrari -- which suffered several scratches on a driver-side panel -- was impounded as arrest evidence.
Go to The Post for the full report.