Sports Illustrated Swimsuit announces Kelsey Merritt as their new rookie: 'The smile says it all'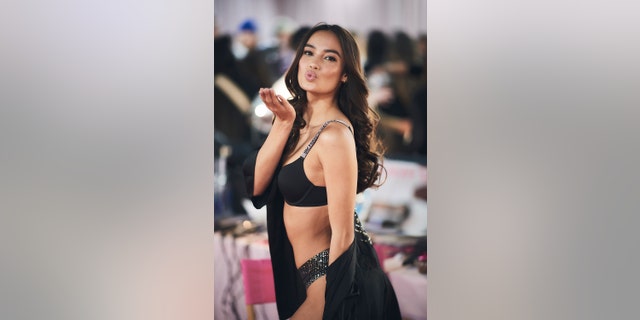 NEWYou can now listen to Fox News articles!
Kelsey Merritt is spreading her wings.
The 22-year-old model, who previously walked the runway for the Victoria's Secret Fashion Show in 2018, is now the newest pinup for Sports Illustrated Swimsuit.
The coveted magazine made the announcement on Instagram Sunday.
BRET MICHAELS' DAUGHTER TALKS STRIPPING DOWN FOR SI SWIMSUIT
"The smile says it all!" The publication captioned in a video unveiling Merritt. "@kelseymerritt is the newest member of the #SISwim 2019 rookie class!"
Merritt will appear in the magazine alongside former New England Patriots cheerleader Camille Kostek, Bret Michaels' daughter Raine Michaels, former Sports Illustrated Swimsuit cover girl Hailey Clauson and plus-size model Hunter McGrady — just to name a few.
"I've been keeping this a secret for a while, and now I'm so excited I get to finally share with you all that I'm the newest Sports Illustrated Swimsuit 2019 Rookie!!!" Merritt wrote on Instagram.
PLUS-SIZE MODEL HUNTER MCGRADY RETURNS TO SI SWIMSUIT
Sports Illustrated posted several sizzling snaps and videos giving audiences a sneak preview of Merritt's sun-soaked photo shoot in the Bahamas.
"I really want to be a Sports Illustrated model because I love how confident the models are," Merritt told the magazine last October during the casting call. "And I want to show everyone who is looking at these pictures and reading the magazine that they can also be confident in their own skin."
Merritt previously stirred headlines in November 2018 when she made history as the first Filipino model in the Victoria's Secret Fashion Show. She moved to New York City from the Philippines in 2017 to pursue modeling.
"I can't believe I'm making my runway debut there!" Merritt told The New York Post at the time. "I feel like I won a beauty pageant."
SI MODEL: 'MY BODY REALLY CHANGED'
While Merritt first embarked on her modeling career at age 15, she also studied advertising at Ateneo University, which the newspaper listed as one of the most prestigious schools in the Philippines. In 2015, she was scouted via Instagram by a Wilhelmina executive who asked her to fly out to New York City for four months. It didn't take her long to book gigs while she was also juggling her studies.
Once she graduated with her bachelor's degree in 2017, Merritt moved to New York full time. It was then when she was cast for two catalog shoots for Victoria's Secret. Merritt soon found herself auditioning for the televised fashion show.
Merritt insisted she put her faith in God to help her secure the biggest role of her life.
"I went to church and prayed," said Merritt. "I said, 'This is all in your hands now.'"
CLICK HERE TO GET THE FOX NEWS APP
Merritt got the call and immediately went to work. Merritt told the newspaper that for two months, she cut sugar from her diet and works out every day, often twice a day to prepare her body for the show.
"Every single model will tell you it's their dream job," Merritt said at the time. "The roster of girls is just the best of the best, and to be part of that is just — you feel like you made it."