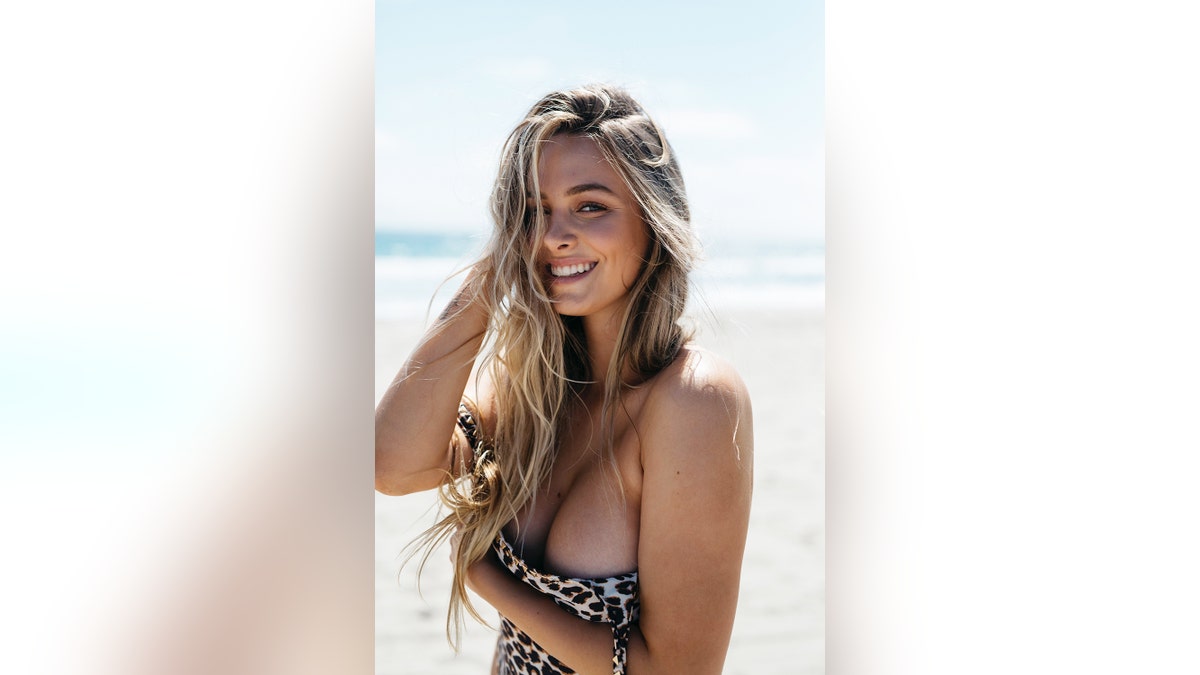 Raine Michaels was born to rock the runway.
The 18-year-old aspiring model, who is the daughter of Poison frontman Bret Michaels, recently made her runway debut for the Sports Illustrated Swimsuit show in Miami.
BREASTFEEDING MODEL RECALLS WALKING THE SPORTS ILLUSTRATED SWIMSUIT RUNWAY
Michaels, a recent high school graduate, was selected out of 25,000 hopefuls eager to earn a place within the pages of the coveted magazine.
Michaels spoke to Fox News about participating in the SI competition, meeting Kate Upton and growing up with a rock star.
Fox News: What was it like strutting the catwalk?
Raine Michaels: It was incredible, that's all I can say. It was one of the best experiences I've ever had in my life. The whole week was just amazing.
Fox News: What was going through your mind as you were walking?
Michaels: Oh my gosh, I was so nervous. The only thing I could think about was 'Don't fall, don't fall, don't fall.' And I wasn't even wearing heels! So I was like, it can't be that hard. But I had never walked a runway in my life. So I was really nervous.
This was my first runway show ever and it was for Sports Illustrated. So this is a pretty big deal. And I was surrounded by a pool. So if you fall, you're going straight to a pool. But I channeled my nervousness and turned it into excitement.
Fox News: Why is SI a dream for you?
Michaels: Sports Illustrated has been one of my goals since I was probably 13 years old. I've always wanted to be a part of Sports Illustrated. I loved the magazine. Kate Upton is one of my biggest role models in life. I've always loved that they really want to show that it's all about inner beauty that shines.
Beauty comes in all shapes and sizes. There's no one shape or size that's perfect. And they show that all sizes, all shapes matter, all ethnicities are beautiful. That's something I really wanted to be a part of because that's what we need in the world today.
Fox News: Is it true you met Kate Upton?
Michaels: I did! She is so, so sweet and down to earth. And she's absolutely stunning in person. I was talking to her and I just couldn't stop staring at her. She is just so pretty. And she had just announced that day she's pregnant.
She was glowing. We only got to talk for two minutes… but just in those two minutes I was starstruck… But I just see so much of myself in her. We have a similar body type and it's cool to see girls like me who have become so successful in life.
Fox News: When did you realize you wanted to become a model?
Michaels: My mom used to be a model, so it's always been a thing that I wanted to do. I really look up to my parents and... I wanted to follow in her footsteps and pursue it as well. I got signed to an agency when I was 16, but I haven't done much because I was pretty young.
And the way my body is, it's fit for lingerie and swim. And you can't do that when you're 16-17 years old. They didn't want me to go out and do lingerie when I had just turned 16. But I've always wanted to do modeling and get into the entertainment industry… But now I'm here! ...Hopefully this is my big modeling break.
Fox News: How important is it for you to make it on your own?
Michaels: Obviously, people know who my dad is. Of course, I'm really proud of who he is and what he has done. He's an amazing person. So I'm not ashamed that people know I have a celebrity parent. I realize that yes, he can open doors, but I have to work hard to keep them open.
Fox News: What has been your dad's response to your modeling career?
Michaels: He's always been extremely supportive of everything that I do. He wants me to succeed in whatever I want to pursue in life. He was so proud. He would call me like every second. He would go, 'Oh my God, how are you doing? Are you so excited?' Right before I went on, I was like, 'Dad, I have to go now.' And he said, 'Right, right, but I'm so excited for you! I'm waiting outside, I'll see you right after!' I was just like, 'Oh my goodness, OK.'
I was talking to some of the girls [in the competition] and they were like, 'My dad is so mad that I'm going to be walking in a bikini right now.' And I'm like, it doesn't have to be sexualized. It's something you just want to do. You feel beautiful, you're body confident and you want to show it. That's amazing. My dad totally gets that, which is really cool because I know that not all dads do.
Fox News: What was it like growing up with Bret Michaels?
Michaels: Everyone always asks me that, but honestly, it was so normal. I didn't think anything of it really. I thought going to a concert and meeting Lynyrd Skynyrd was normal. Obviously it's not, but I've had an amazing, incredible life. I wouldn't change it for anything.
He's a regular dad. We go to the beach, play football in the front yard – we just do regular things. But it's been really cool just getting to meet a lot of people through what he's done. Anytime that he can be home, he is… And I have gone on tour with him before. But anytime he's not touring, even if it's just for two days, he'll be home with us.
Fox News: When it comes to boyfriends, how is your dad?
Michaels: He's really cool. He's not the weird, I'm going to pull out the shotgun if you do anything type. He's definitely protective, but he understands that it's part of growing up. He lets it happen. But I'm single right now so he's happy.