Shakira And Rihanna Send Temps Soaring In Sexy Music Video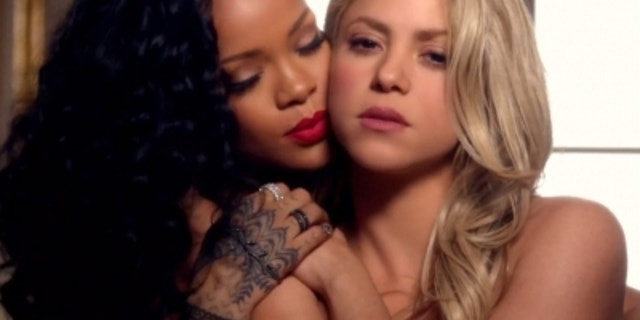 NEWYou can now listen to Fox News articles!
Shakira reveals a lot more than those famous hips that don't lie in a new smokin' music video that pairs her up with equally stunning Rihanna.
In the video for "Can't Remember to Forget You," a single released this month that features both stars, Shakira dominates the beginning with provocative scenes that put her on a bed, a pool and against a wall.
She romps, twerks and shoots a come-hither look while pining for the guy who dumped her. Unlike many dumpees who drown their sorrows in pajamas on a sofa (with a pint of ice cream or box of chocolates), Shakira grieves in scant clothing that shows her rock-hard abs and cleavage.
Her blond cascading mane framing a flawlessly made-up face, Shakira variously dons a bathing suit, a gown that shows more skin than fabric, and very very high heels.
Rihanna eventually enters the scene, with every bit the sizzle – and little clothing – as her kindred spirit.
Then the temp soars as the two – ahem – console each other on a bed (with high heels, of course), caressing and, in the usual bedtime ritual, smoking cigars.
Observed MTV.com: "They both seem to be adjusting to their single gal lifestyles quite nicely."
Shakira, who's part Colombian, has said she especially wanted to do the song and video with Barbadian Rihanna because of the song's blending of both reggae and rock.
"That's why I thought that Rihanna was perfect and thought that she was the other half for this," she said, according to the Daily Mail.