Sam Elliott saddles up for 'The Ranch'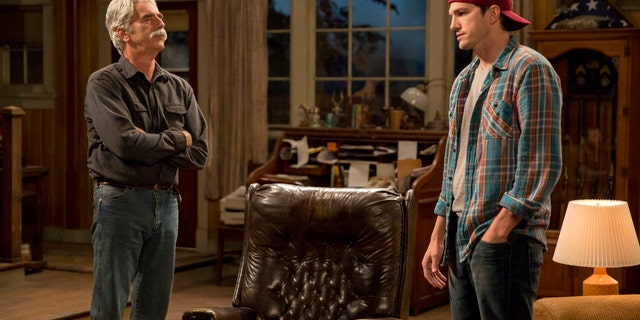 Sam Elliott is back in the saddle again when Netflix beings streaming "The Ranch" on Friday, April 1. But there is a bit of a twist to it, because rather than a regular Western, this time the "Conagher" star is playing it for laughs.
On "The Ranch," also starring Ashton Kutcher and Danny Masterson, Elliott plays Beau, the owner of a modern-day ranch in Colorado, who is the father of two sons. His eldest boy "Rooster" (Masterson) has been helping him with the family ranching business since he was a young thing. But when the series begins, his youngest son Colt (Kutcher) has just returned to the fold, following a failed semi-pro football career. Needless to say, father and son have their issues, and therein lies the comedy.
"Initially, it was very daunting, and it remains that," Elliott, who makes his sitcom debut in "The Ranch," told FOX411. "I don't have a lot of stage experience, so I was a little nervous about the whole process. I think that was compounded, although I take great comfort at the same time, in working with two guys -- Ashton and Daniel -- who have such vast experience in that game. Watching them is a revelation for me every week and I am super impressed by both of them. At 70 years old, to be doing something new, and still having a career, I just feel very fortunate."
Elliott recalls that he was hesitant to take the role initially. First he said, yes. Then, he tried to back out. Part of it he attributes to his insecurity about his lack of experience with the 4-camera format, but there was also the fact that the series shot entirely on interior sets.
"I'm a purist on some level and I know this Western genre inside out," he says. "One of the issues I had in the beginning was that it is called 'The Ranch,' but it was never shooting outside. My wife [Katherine Ross] referred to it in the early days as 'The Ranchless' because you never saw the ranch. They always talk about the work, but you don't see the work. Work is what ranching and farming is all about. It is about the work; the love of the land. In a Western, the outdoors is always one of the prime characters in the piece."
Elliott finally decided that despite its not being easy to buy into not seeing the ranch, he had to give up a certain reality, embrace the fiction and move ahead. That said, there was one thing that did ring true, and that was the family dynamic with the youngest son having to move back home for financial reasons.
"That's a reality in this world we're living in today," he says. "I think it can be a good dynamic. I don't think there is anything wrong with having an extended family living under the same roof. It is a challenge possibly. It is not traditional in the old sense, where your kids grew up, went to school, and moved on and had their own lives. I am sure of that. But I think there is good to be had out of that as well."
Elliott will follow "The Ranch" with a role on another Netflix series, "Grace and Frankie," which stars Lily Tomlin and Jane Fonda, and will premiere its second season May 6.
"I play a love interest for Jane in the show," says Elliott, who doesn't deny that his casting came around as a result of his working with Tomlin in last year's critically acclaimed film "Grandma."
At a time when most men are thinking about retiring, it isn't something that crosses Elliott's mind, although he does talk fondly about moving back to Oregon, where he spent his teen years. In fact, even now he owns his mother's home there, as well as a place in the Willamette Valley.
But Elliott still has plans to make movies -- and the kind of movies, for which he is best known.
"I want to do more Westerns in this age where the Western is given such short shrift," he says. "Over the years that I have been involved, Hollywood has typically catered to the key cities, whether it is New York, Los Angeles, or Chicago. But there is this vast audience out there for real Westerns, which I am totally conscious of, and really, really would like to service again."
"The Ranch" is available on Netflix beginning April 1.