'Roseanne' star Sara Gilbert tears up while discussing cancellation: 'I'm sad to see it end this way'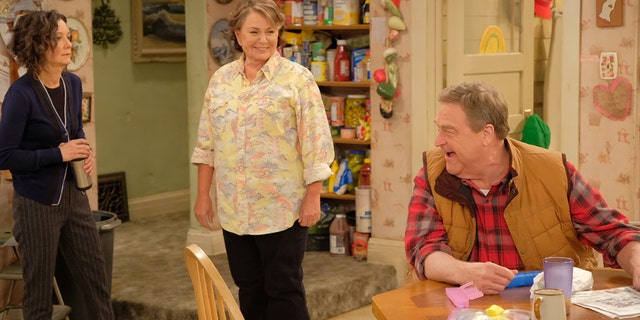 Sara Gilbert displayed deep emotions on Monday during her appearance on "The Talk."
The actress and comedian let it be known that she didn't want "Roseanne" to end, but that she respects and stands by ABC Entertainment President Channing Dungey's swift decision to cancel the hit sitcom.
Speaking out for the first time since she tweeted following the show's cancellation, Gilbert, 43, said: "In addition to my statement, I would like to say this has been a very difficult week. A lot of people have been hurt by this. I will say I'm proud of the show we made. The show has always been about diversity, love and inclusion, and it's sad to see it end in this way."
The actress continued, "I'm sad for the people who lost their jobs in the process, however I do stand behind the decision that ABC made."
Gilbert drew applause from the audience at multiple points during her statement, as well as the end.
"Roseanne" was given the boot on Tuesday after the show's star, Roseanne Barr, tweeted a racist comment about former President Obama's aide Valerie Jarrett.
Sheryl Underwood, a co-host on "The Talk," chimed in to voice her support with the decision.
"I'm really glad to hear you say that, because as a black woman who is a comedian, I'm very, very proud of Channing Dungey…" Underwood said. "And, as Spike Lee says, a lot of people came together to do the right thing. And, I'm happy to see that it was done swiftly."
Gilbert initially tweeted after the show's sudden cancellation, distancing herself from Barr's views. The tweet drew a reaction from the embattled comedian.
On Friday, TMZ reported that ABC was seeing if there was a possibility of "rebranding the show and focusing on" Gilbert's character, Darlene Connor, rather than Roseanne.
The outlet also reported that Gilbert had contacted her "Roseanne" cast mates to gauge how much interest they had in a potential reboot, and that John Goodman is "very interested."
Goodman plays Roseanne's husband and Gilbert's father on the comedy.
ABC as well as reps for Goodman and Gilbert did not return Fox News' requests for comment regarding a possible spinoff.