Rob Delaney pens heart-wrenching essay about his son's cancer battle and death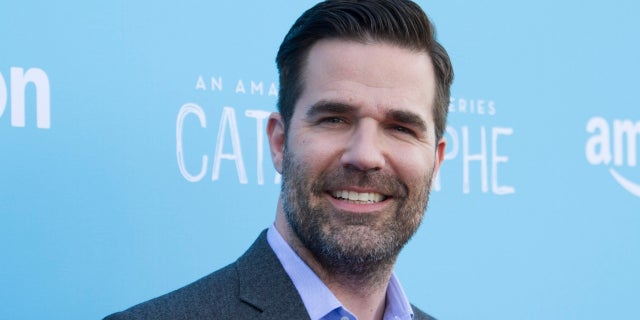 "Catastrophe" star Rob Delaney wrote a heartbreaking essay on his late son's cancer battle.
The actor's 2-year-old son, Henry, died in January after a brain tumor diagnosis in 2016.
He recalled when his son started to become ill.
"A little over a year ago Henry vomited at his oldest brother's fifth birthday party," Delaney wrote in the essay published on Medium. "No big deal; he was our third kid and we'd cleaned up enough gallons of puke not to be fazed."
However, Henry vomited the next day so the family brought him to the emergency room, where doctors believed the boy had a urinary tract infection, Delaney wrote. The actor said his son started to lose weight and was continuing to vomit.
AMBER TAMBLYN, MARISA TOMEI AND MORE ACTRESSES APPEAR IN VIDEO SUPPORTING BRETT KAVANAUGH'S ACCUSER
The comedian brought his son to a doctor recommended by his friend and the doctor suggested an MRI. The boy was then diagnosed with an ependymoma, a tumor on the brain. Henry had surgery to remove the tumor, but it damaged his cranial nerves and left him with Bell's palsy, deaf in one ear and with facial paralysis.
Delaney, who is also a co-writer of the Amazon series, said he started writing the essay in April of 2017.
"Henry's tracheotomy tube prevents him from speaking, so I haven't heard him make a peep for over a year," Delaney wrote. "My wife recently walked in on me crying and listening to recordings of him babbling, from before his diagnosis and surgery."
Delaney wrote the last part of his essay later. He said he was writing the essay in hopes of completing a book, but stopped writing when his family learned that the tumor returned.
"I stopped writing when we saw the new, bad MRI. My wife and his brothers and I just wanted to be with him around the clock and make sure his final months were happy," Delaney wrote. "And they were."
The actor explained he was publishing the essay for other parents who had sick children.
ALLMAN BROTHERS BAND'S DICKEY BETTS TO UNDERGO BRAIN SURGERY FOLLOWING 'FREAK ACCIDENT'
"The reason I'm putting this out there now is that the intended audience for this book was to be my fellow parents of very sick children," he wrote. "They were always so tired and sad, like ghosts, walking the halls of the hospitals, and I wanted them to know someone understood and cared. I'd still like them to know that, so here these few pages are, for them. Or for you."
He concluded the essay by saying the ending took a different turn and maybe he'll consider writing another book in the future.
"But I can't write that book anymore because our family's story has a different ending than I'd hoped for. Maybe I'll write a different book in the future, but now my responsibility is to my family and myself as we grieve our beautiful Henry."