Remembering Elvis Presley's Career Highs and Lows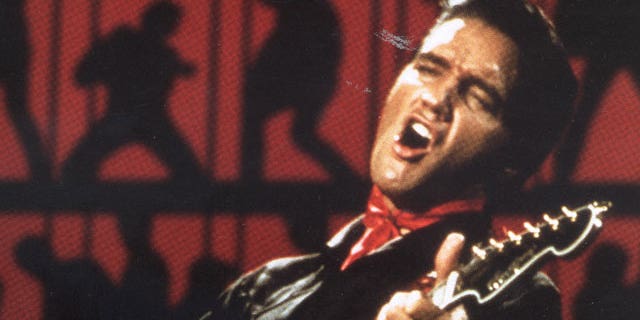 Elvis Presley may have died, but you wouldn't know it from the birthday party he's getting.
His tombstone at Graceland reads, "January 8,1935 - August 16, 1977," which means today would have been Elvis' 75th birthday.
His 2010 "75th Anniversary Tour" includes a Graceland blowout with Lisa Marie and Priscilla cutting his birthday cake on the North Lawn. Then this weekend, the party spills onto Beale Street and the rest of Memphis so that, according to the official Elvis birthday press release, "fans from around the world [can] celebrate Elvis' birthday [with] Elvis- themed entertainment, drink specials and more."
THEN/NOW: If These Stars Were Alive, How Old Would They Be?
But this isn't just the King's birthday weekend, it's also his birthday year. That means you can see him at "Viva Elvis," his new Cirque du Soleil show (don't be distracted by those other Elvis impersonators on the Vegas Strip), download him on the Elvis Mobile iPhone app, friend him on his Facebook fan page, or sail with him on the 2010 Elvis Cruise (which promises to get fans "all shook up" — not sure if that's a good thing on a boat).
These days Elvis is arguably looking better at 75 than he did during the last ten years of his natural life. Now in the third decade of his post-mortem makeover, Tupelo's favorite son's career moves are being planned with care. However, his reign from the 1950s to the 1970s as the (living) King of Rock 'n' Roll was not so steady.
RELATED: Fans remember the King of Rock 'n Roll.
With the exception of that other King, who moonwalked to the throne in the '80s, the dizzying highs and staggering lows of Elvis' career are unparalleled. Here are some of the most famous ones from those three decades.
THE 1950s
HIGH: That Birthday Gift for Mama
In August 1953, an 18-year-old Elvis Presley needed a birthday gift for his mama, Gladys. He walked into Sun Records to record a disc of him singing "My Happiness" and "That's When Your Heartaches Begin." It was the best gift he ever gave her (aside from the Cadillacs, perhaps). Less than a year later, Elvis was a Sun Recording artist with his first single and was on his way to becoming a star.
WATCH: Elvis performing "That's All Right (Mama)."
LOW: "Marrying" Colonel Tom Parker
Former music promoter Tom Parker was Presley's only manager until his death. Parker negotiated unprecedented deals for Presley immediately after their 1955 business marriage was consummated, including a $40,000 recording contract with RCA and three appearances on the "Ed Sullivan Show" for $50,000.
Parker also ruled Presley with an iron fist, took up to half his earnings at certain points during his career, and turned his back on the addictions that would ultimately kill the star. Parker largely stayed out of spotlight but gave an '87 interview to ABC to explain his method. It's fascinating and not likely to change any minds.
WATCH Col. Parker talking about Elvis on "Nightline."
HIGH: Shaking on Sullivan
Despite the fact that Ed Sullivan declared Elvis Presley "unfit for family viewing," the variety show host couldn't resist high TV ratings. He booked Presley for three appearances — the first of which was viewed by more than one-third of the U.S. population. When the show was over, Elvis Presley's place in rock 'n' roll history was secured.
WATCH Elvis performing "Hound Dog" on the Ed Sullivan Show.
THE 1960s
LOW: Hollywood
Elvis Presley made 27 films throughout the '60s. Most of them sucked, despite generating sizable box-office and soundtrack receipts. Presley himself reportedly said that some his own movies made him physically ill. No wonder: his parts ranged from dual roles as a soldier and a strawberry blond hillbilly in 1963's "Kissin' Cousins" to an Indian rodeo star in 1968's "Stay Away Joe."
WATCH Elvis in "Kissin' Cousins."
HIGH: Black Leather
Sick of seeing his credibility drained by years of Hollywood filmmaking schlock, Presley staged his first live appearance since 1961. Col. Parker originally wanted a Christmas show of Elvis singing carols. Thankfully, TV director Steve Binder talked some sense into Parker and used the show as an opportunity to re-establish Elvis' rightful place on his rock throne.
It did the trick.
Not only was the 1968 NBC special "Elvis" a ratings hit, but it also gave him his recording career back and taught a generation of rockers, from Bono to Billie Joe Armstrong, how to wear leather and dye their hair black.
WATCH Elvis perform "Love Me Tender."
THE 1970s
HIGH: Hanging with President Nixon
Hopped up on prescription meds, Presley met Richard Nixon in the Oval Office in 1970 to request an appointment as "Federal Agent-at-Large" for the Bureau of Narcotics and Dangerous Drugs (predecessor to the Drug Enforcement Agency). The King was apparently concerned about the hippie movement and wanted to, as he explained, "help the country out."
He brought the President a Colt 45 pistol as a gift — and maybe protection against the hippies?
WATCH: Elvis and Richard Nixon at the White House.
LOW: Peanut Butter, Banana, and Bacon Sandwiches and Jumpsuits
We all know how the story ends: too many peanut butter, banana, and bacon sandwiches, shoot-outs with TV sets, concerts-turned-jumpsuit-Jujitzu lessons, and, ultimately, the King found dead on a bathroom throne.
Elvis spent the '70s drugged and touring relentlessly. He refused what little help was offered to him and became a bloated caricature of his former hip-shaking self. Presley remains one of the great tragedies of rock all of these years later.
Still, the dude could sing until the end.
WATCH Elvis perform "Hurt" live in 1977.