Rachel Platten on 'embarrassing' national anthem debacle: 'My mind just went blank'
NEWYou can now listen to Fox News articles!
Rachel Platten said her "mind just went blank" when she began belting out the lyrics to the national anthem over the weekend, causing her to restart "The Star-Spangled Banner" twice before being able to power through the song.
In an interview with People, Platten said she felt "really embarrassed" after her flubbed performance at Saturday's Rio Tinto Stadium in Sandy, Utah for the National Women's Soccer League match. Platten began singing, "O, say can you see, by the stars early light," before pausing, apologizing, then starting the song over twice. She then asked the crowd to help her with the lyrics.
"I feel really embarrassed, honestly. I'm having a hard time forgiving myself, but I'm working on it. It was incredibly, incredibly embarrassing," Platten told People. "I've been trying to retrace steps of what happened … it has just been hanging over me."
Platten, best known for "Fight Song," recalled being nervous before the performance despite performing the national anthem at previous events. She sang the national anthem during the 2016 World Series.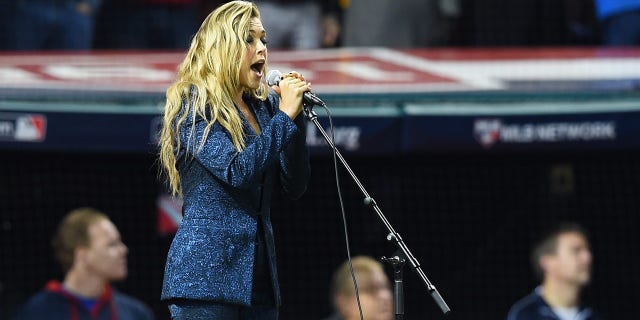 She added, "I always get nervous because it means so much because it is so powerful. I always want to do it justice, do a good job and give people the exact version they expect and they want."
"I have done it a bunch of times, but I stepped in front of the people and I felt the expectation. I was ready to open up and do it, and my mind just went blank," she recalled. "I was trying to explain it to my husband: It was like a test that you know all the material to, you study so much and you get in there, and your mind doesn't cooperate."
VIRAL AWKWARD! POP STAR FORGETS NATIONAL ANTHEM LYRICS & HAS TO START OVER... TWICE
The 36-year-old said she ultimately felt proud of herself for powering through the "Star Spangled Banner" on the third try. The devastated singer -- who had to stay to perform a separate concert after the match -- added she fought the urge to run out of the stadium after the performance.
"I went back to the stadium, and it all just came rushing at me — what I had done and not delivering what people were owed. My band was really kind. I was just sobbing," the singer told People.
Platten said it's been hard to forgive herself after the debacle. She admitted she looked at social media to see fans' reactions.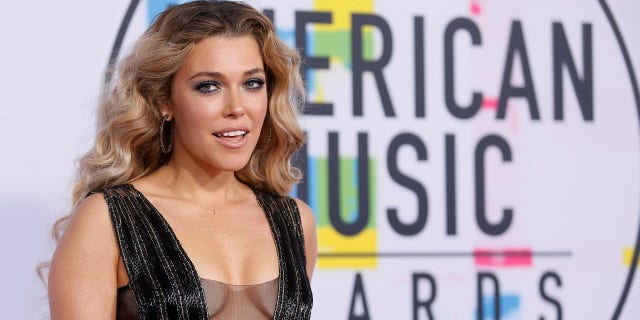 "I'm trying to practice what I've been preaching: If I'm telling my fans to love yourself no matter what, I owe myself the same thing even though it's really hard right now," she said. "I'm human. This was a humongous and embarrassing mistake, but it was a mistake. My mind just wasn't cooperating."
Platten said she wants to redeem herself.
"I don't know if anyone would really want me to anytime soon, but I will absolutely try it [the national anthem] again sometime," she said. "At first, I came off saying, 'Well, never doing that again.' But I love being able to do my country proud and sing that song. I'm not gonna be afraid and back down from it."
"Any teams out there: I'll definitely remember the words!" Platten joked. "I'm probably going to have them in front of me, so no one has to worry."