QA: Harry Hamlin sees some Lucille Ball in wife Lisa Rinna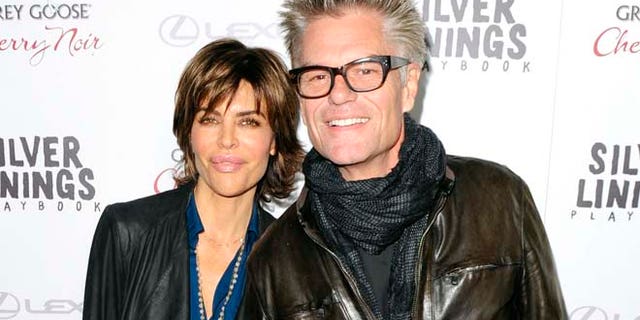 Harry Hamlin is as busy as ever. The 61-year-old actor just finished up a juicy role as Jim Cutler in 'Mad Men.' Of course the Yale educated actor is best known for playing sexy Michael Kuzak in 'L.A. Law' and for appearing in one of the first mainstream movies about gay men, 'Making Love.' Happily married to Lisa Rinna since 1997 he is the father of two girls with Rinna and a boy from a relationship with Ursula Andress.
FOX411: How cool to have been on 'Mad Men!'
Hamlin: It was a blast. It was a big surprise that they asked me to do it. I had met with Matt Weiner (the creator) for another role some months before and then they called me to do this and I was very pleased that they hadn't cast me for the one I had read for before.
FOX411: You were in 'Making Love' which was a big deal back then. I'm sure lots of people assumed you were gay.
Hamlin: I found that out after. I didn't know that would happen when I went into it but after I finished it a lot of people did have that perception which didn't bother me. The film was much more controversial than we all thought it would be. The whole gay movement was starting to evolve at that moment and it seemed to me like a very appropriate film subject because it was so timely and not too many pictures were being made at that time that were dealing with things that were actually happening in the world.
FOX411: And of course you were named People's Sexiest Man of the Year while you were on 'L.A. Law.'
Hamlin: It's an interesting little club to belong to and those of us who have been tapped. We kind of get a chuckle amongst ourselves because obviously it's bullshit but nevertheless it is something people talk about and something that is remembered.
FOX411: You must have had a lot of female fans during 'L.A. Law.'
Hamlin: I've always been a marrying man. I wish I could say they all worked out but three's the charm. I've always been committed and when I'm committed I never pay attention.
FOX411: You and Lisa seem to have a Lucy/Desi thing going.
Hamlin: Yeah absolutely. I see clips from "The Lucy Show" and I'm totally reminded of Lisa. From time to time I find myself saying, "You've got some 'splaining to do!"
FOX411: You have two girls aged 15 and 12. What's the game plan, locking them in a tower?
Hamlin: That's not a bad idea. If I had a tower I'd probably find a way to lock them up. No, they're good girls and they have a good sense of what is appropriate and inappropriate. They also have a good sense of themselves and they know they are deeply loved. We have a great sense of family and I think that will go a long way towards keeping them locked in a tower without actually having to lock them in a tower.
FOX411: You went to Yale. You hoping they follow your footsteps?
Hamlin: They can do what they choose as far as that goes. I think they understand how cool that is. My son was accepted at Yale but went to Princeton. Having gone through that I would rather only have one school asking me for money on an annual basis.