Prince Harry steps out with Kate Middleton amid royal family feud rumors
Prince Harry and sister-in-law Kate Middleton put on a united front on Thursday amid rumors of a feud between Harry and brother Prince William.
Middleton, 38, and Harry, 34, represented the royal family at an Anzac Day service in London to honor Australian and New Zealand servicemen and women, especially their work in World War I. The pair were spotted laughing it up outside of Westminster Abbey for a church service.
William, meanwhile, was in New Zealand to honor those slain in the Christchurch mass shooting.
PRINCE HARRY WAS 'WORRIED' ABOUT FINDING A PARTNER BEFORE MEETING MEGHAN MARKLE
Meghan Markle wasn't present, as the former "Suits" actress is on maternity leave, with Baby Sussex due any day now.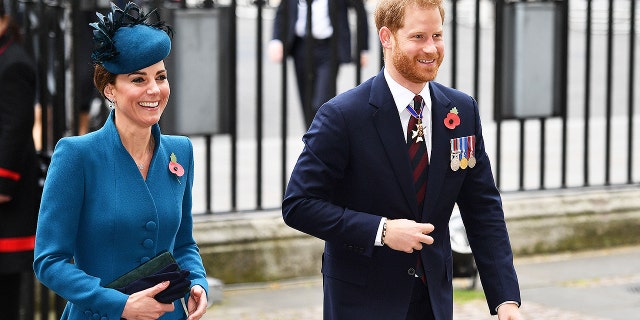 William and Harry have reportedly been at odds since William questioned the speed at which Harry and Markle moved in their relationship.
MEGHAN MARKLE WILL LIKELY HELD BACK BY ROYAL FAMILY, EXPERT SAYS
"I'm told from very reliable sources that the relationship has gone through challenging times since Harry started dating Meghan," royal expert Katie Nicholl recently told Fox News. "I'm told that privately William was concerned about how quickly the relationship had moved."
PRINCE CHARLES WARNED MEGHAN MARKLE AGAINST WEARING TIARA AS KATE MIDDLETON SPORTED DIAMOND HEADPIECE THE SAME DAY
"William wanted to make sure that Harry was making the right decision," continued Nicholl. "And I think what was intended as well-meaning, brotherly concern and a bit of advice went down quite badly with Harry, who felt that William wasn't being as supportive as he might've been. So there has certainly been tensions between the brothers."
PRINCE HARRY, MEGHAN MARKLE AND PRINCE WILLIAM PLAY NICE IN PUBLIC AMID FEUD RUMORS
Meanwhile, reports have suggested that William urged Harry and Markle to work in Africa to be "as far away as possible" from Kensington Palace.
The palace said in a statement that no plans to move have yet been confirmed, but sources said that Harry indeed wants to separate himself from his brother and become his own man.
CLICK HERE TO GET THE FOX NEWS APP
Middleton and Markle were rumored to be feuding as well, but the Duchesses of Cambridge and Sussex have been publicly warm since the rumors first emerged.
Fox News' Stephanie Nolasco contributed to this report.