President Obama and Mitt Romney open CMT Awards before Carrie Underwood steals the night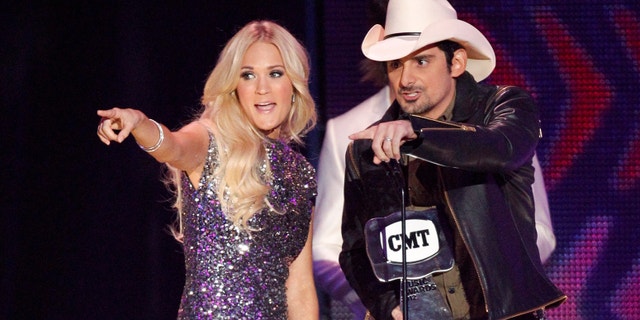 Nashville's Bridgestone Arena is turning into quite a memorable place for Carrie Underwood. But on Wednesday night, it was two political heavy hitters who first took center stage at the CMT Music Awards.
The night started with President Barack Obama and his likely Republican challenger Mitt Romney making an appearance in taped video segments.
As you might expect, neither was willing to offend voters on either side of the aisle in a "dirty politics" debate over who should host the show, Bell or country star Toby Keith.
"This is one of the toughest decisions I've had to make since I've been in office, but I decided I want them both," Obama said.
Romney then also suggested they work as co-hosts and added, "See, I just put two people back to work."
With the decision made, Keith and Bell arrived at the stage in a huge replica of a red solo cup, in deference to Keith's hit song.
After that, the night belonged to Underwood, who won her third video of the year award.
Underwood's two wins -- she also won for collaboration of the year for "Remind Me," with Brad Paisley -- mean she's now won nine CMT belt buckles since 2006, including video of the year awards. That matches Taylor Swift's run in that fan-voted category over the same period.
The former "American Idol" winner was the night's only multiple winner.
Luke Bryan pulled off the surprise of the night, taking male video of the year for "I Don't Want This Night to End." After beating out country's top male stars, Bryan rewarded his fans by tossing a pair of boxers into the crowd.
It was far from the raciest moment of the night. Kellie Pickler pretended to motorboat an imaginary pair of breasts to introduce Little Big Town's performance of "Pontoon," complete with a full-sized pontoon boat and bikini-clad "swimmers" floating around the stage.
And co-host Kristen Bell made sure to spend a little quality time in the stands, sandwiching herself between Bryan and Jake Owen.
"I didn't know I'd be sitting right in the middle of Hunksville, Tenn., population -- two," the actress joked.
As for the official business of the night, the rest pretty much held true to current award show trends.
Upon hearing their names in the collaboration category, Paisley leaped to his feet and wrapped his arms around Underwood's husband in a long embrace that got the laughs started.
Miranda Lambert won her third straight female video of the year award for the emotional "Over You," a song she co-wrote with husband Blake Shelton about the untimely death of his brother.
Rising duo Thompson Square was nominated twice for duo video of the year and won for "I Got You." Former "American Idol" winner Scotty McCreery took home breakthrough video of the year for "The Trouble with Girls." Lady Antebellum won group video of the year for "We Owned the Night."
And Jason Aldean, a multiple nominee in the past, won his first belt buckle, taking home CMT performance of the year for "Tattoos on This Town."
"This is actually my first one of these, so this is pretty cool," Aldean said after double-timing it to the stage. "I've got to say a big thank you to CMT for still playing videos. Thank you guys so much. It's such an important part of what we do, and how to get our face (out there), and still connect with our fans."
The night was filled with several strong performances, but none got quite the reaction as Willie Nelson's rare appearance to play his new song, "Roll Me Up."
Keith, Jamey Johnson, Darius Rucker and Zac Brown Band joined him on stage to sing the ode to marijuana as a smoke machine rolled on high in the background.
Lady A singer Charles Kelley sang along, holding his cup in the air, and the performance received a long standing ovation.
In a couple of other notable mashups, Paisley joined Hank Williams Jr. on a new outside stage to perform their collaboration "I'm Gonna Get Drunk and Play Hank Williams" and Journey joined Rascal Flatts on "Banjo" and "Don't Stop Believin"' to close the show.