Nonna's fried pasta and meatball recipe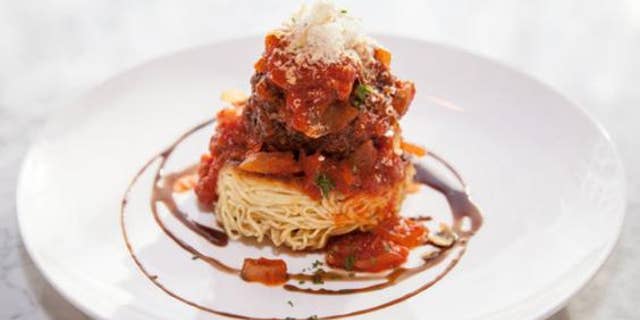 C.J. Bivona, executive chef of Petaluma in New York City, whips up this delicious spin on a family favorite.
Marinara Sauce
Ingredients
3 32 oz. San Marzano Tomatoes
3 onions
1 carrot
8 garlic cloves (crushed)
1/2 oz. of basil
Celery
Pinch of crushed red pepper
Salt (to taste)
Pepper (to taste)
Sugar (to taste)
Directions
Sweat out onions and carrots together; add celery 10 to 12 minutes after.
Cook until celery is translucent, reduce heat.
Add garlic; cook another 2 to 3 minutes.
Add tomatoes and the sachet of basil, cook for 2 to 4 hours until liquid is almost gone.
Season with salt, sugar, and black pepper.
Reserve basil and cut into long thin strips, fold into cooled marinara.
Meatballs
Ingredients
Ground beef
Ground veal
2 slices of Layflat Bacon
1/4 cup of parsley
1/4 cup of sage
1/4 cup of basil
1/4 small diced onion
1 cup of panko
1 whole egg
1/4 cup of garlic
1/4 cup of grated Parmesan
Directions
Chop all herbs sand garlic.
Lightly beat eggs.
Mix all ingredients by hand.
Roll to 5 to 6 oz. each.
Sear in a sauté pan until golden brown.
Transfer to a vat of hot marinara sauce.
Cook in sauce for at least 2 hours, the longer the better.
Pasta
Ingredients
Fresh rolled spaghetti (or any spaghetti found in the local grocery store)
Olive oil
Directions
Boil the pasta in water for 8 minutes (one minute less than the box states).
Drain water and place in small plastic container.
Place the pasta in the fridge until it sticks together.
Fry with a little olive oil on high.
Take the pasta cake out of the container onto the frying pan.
Season with salt and pepper.
Sear it in the hot oil until its golden brown.
Top with hot meatball and sauce, cover with grated Parmesan cheese.