Nicole Kidman kisses Alexander Skarsgard in front of husband Keith Urban at the Emmys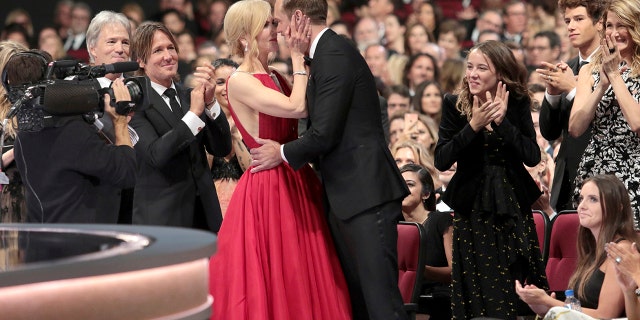 NEWYou can now listen to Fox News articles!
The Emmys caused quite a stir both in Hollywood and across the country, but perhaps no moment was met with as strong a reaction as Nicole Kidman and Alexander Skarsgard's affection for one another.
Early in the night, Skarsgard took home an Emmy win for Outstanding Supporting Actor in a Limited Series for his role alongside Kidman in "Big Little Lies." The two played a husband and wife that are locked in an abusive relationship. While walking the aisle to accept his award, he stopped by his co-star's seat, and they shared a brief kiss on the mouth. While not entirely scandalous, many fans reacted on social media to the fact that the kiss happened mere feet away from her real-life husband, Keith Urban.
Several viewers took to Twitter to share their thoughts on the kiss.
Despite the supposed scandal, Elle Magazine notes that the married couple were not shy about showing their affection throughout the evening following "Big Little Lies'" wins.
Later, Kidman took a moment to address her "darling" husband during her acceptance speech for Outstanding lead Actress in a Limited Series or Movie.
"I'm a mother and a wife. I have two little girls, Sunday and Faith and my darling Keith, who I asked to help me pursue this artistic path and they have to sacrifice so much for it. So… this is yours."