New Sacha Baron Cohen series a Hollywood hit job on GOP, source says
Showtime announced Sacha Baron Cohen's satirical seven-episode "Who is America?" will premiere this Sunday, exploring "the diverse individuals ... across the political and cultural spectrum, who populate our unique nation."
However, a source familiar with the project – who viewed parts of the series in its early, rough-cut stage during a private screening at Sony Studios in Los Angeles on March 22 – told Fox News that, at least then, it was nothing more than a Hollywood hit job on Trump supporters and the Republican Party.
"They actually tried to screen out the Republicans," the insider revealed. "Cohen went undercover to nail Republicans. Total hit piece on Dick Cheney, Sherriff Joe, Roy Moore and others. None of these people seemed to know they were duped. Total secret."
The source also noted that the setup was "so over-the-top" and that those involved in the project were seemingly "trolling online for far-right people to interact with and [getting material for] more setups for future episodes."
"I couldn't believe how unbelievably partisan it is," the insider said. "They also interviewed Bernie Sanders but didn't mock him at all. The crazy right-wing character was interviewing him with a bunch of stupid statistics that made no sense and he also did the same thing with Ted Koppel. The truth is, Sacha is really funny and good at what he does."
A "fake website" was presumably also set up in connection to the series and one of Cohen's characters is featured in a draft-cut promo.
The site, rife with spelling errors, denotes on its homepage:
"REJECT THE MAINSTREME MEDIA + THE LIEbrary OF FALSE INFOMATION THEY TRY TO PUSH INTO THE PUBLICS MIND'S. THE TRUTHBRARY WILL SET YOU FREE. THIS IS A LIBERTY WEBSITE FOR TRUE AMERICA AND TRUTH LOVING AMERICANS."
The site bills itself as "a collection of studies and investigations carried out by Dr. Billy Wayne Ruddick for the good of the American people."
"We must stand together to fight the dark forces of clintons and muslims and Godless peoples to stand strong for our religious freedom and hold forth for what is right in our country," it continues. "Now is the time for the silent majority to come together ansd [sic] seek out our truth."
The posts include "Obama is a kenyan," "Germans now living under Shari'ah law," "Signs that Hollywood is RUN by the SATANIC ELITE," and the implication that "the military has been implanting mind controlled neural dust to remotely control their victims."
Cohen apparently plays a multitude of characters, including "Dr. Billy" (as per the website) with Sanders. He plays a German homosexual with Sheriff Joe and an Israeli Mossad agent with Cheney and two other Georgia GOP-ers who were "being taught how to stop a shooter in the workplace." In early clips at least, the comedian also went "undercover" at the Women's March.
"The show is an exaggerated account of the perceived paranoia and all the hate the left thinks people on the right have towards so many groups," claimed the viewer. "I think they threw Bernie in there just to have a cover so they can't be accused of it being a total right-wing hit job."
Whether or not any such scenes made the final cut, remains to be seen.
Another source connected to the project told Fox News that the series has been in the works for some time, at least one year, and even those associated with it have not yet seen the full series or been given much information, insisting that the whole project has been kept tightly under lock and key.
Representatives for Sony declined to comment, and reps for Cohen and Showtime did not immediately respond to Fox News' requests for comment.
Cohen, most famous for his characters "Borat" and "Ali-G," is the writer and director behind the forthcoming series. It is his first TV show in over a decade.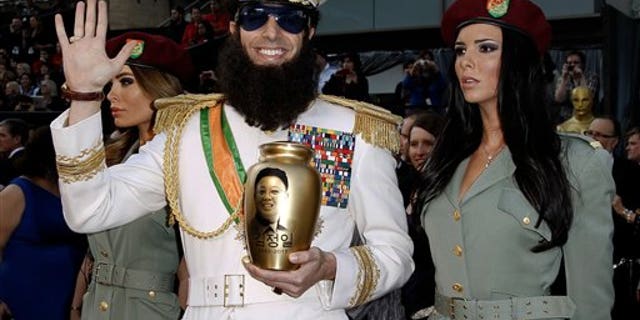 "Sacha is a comedic genius who shocks you with his audacity, bravery and inventiveness," Showtime Networks president/CEO David Nevins stated in the network's press release.
"He is the premier provocateur of our time, but not for the sake of 'gotcha' moments. Behind the elaborate setup is a genuine quest for the truth about people, places and politics. Nobody knows how to cause a stir like Sacha Baron Cohen, and it's going to be fascinating to watch what happens when 'Who is America?' is released on the world."
An online promo featuring Cohen concludes with the tagline "Sacha graduates. Soon," followed by the Trump University logo.