'Mom's Night Out:' Critics bash movie about stay-at-home moms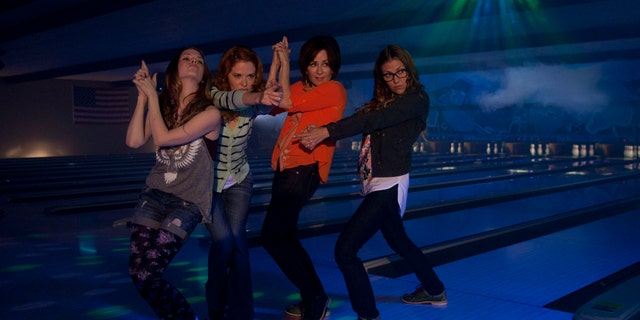 It's billed as a funny, family, faith-friendly film about a group of moms who seek a night out together, leaving their husbands to watch the kids for a few hours. But the Patricia Heaton-starring "Mom's Night Out" has sparked some serious debate across social media.
Scores of Hollywood movie critics have condemned the movie, which opened last Friday, taking particular issue with the notion of stay-at-home moms.
Christy Lemire of rogerebert.com called "Mom's Night Out" "depressingly regressive and borderline dangerous," adding that it "peddles archaic notions of gender roles."
Newsday critic Rafer Guzman called it "unintentionally grotesque" and "worthy of damnation."
The Globe and Mail's Kate Taylor pondered why the central character, Allyson (portrayed by Sarah Drew), "doesn't just hire a nanny, find a job and get out of the house."
TheWrap.com writer Inkoo Kang called both the movie and Allyson "anti-feminist" and said her "lack of a profession consigns the character into Eisenhower-esque irrelevance."
And Neil Genzlingermay of the New York Times concluded that Allyson is "an insult to the millions of women who have much more to deal with."
But are these reviews a punch-in-the-face to the millions of women who stay at home to raise their families?
The most recent data from the Census Bureau shows that the number of stay-at-home moms has increased in the U.S.; in 2013, it was reported to stand at around 5 million. Twenty-four percent of married-couple families with children under 15 had a stay-at-home mom, up from 21 percent in 2000.
"If Hollywood does have a responsibility, it is to show a variety of parenting choices. Moms can work, stay-at-home, home-school, work part-time, etc. None of these choices are easy and people want to see themselves reflected in culture," said Dr. Hilary Levey Friedman, a sociologist at Harvard University.
Actress Stacey Dash, one of the first to bring attention to the media criticism of the film via Twitter, said movie reviewers simply are not giving a fair analysis of the movie.
"Rather, they are demeaning every woman who chooses to be a stay-at-home mom," Dash told FOX411. "It's absurd that these critics, many of whom are women, go out of their way to destroy one lifestyle choice while celebrating films that glorify rape, prostitution, exploitation and abuse of our gender.
"I thought art was allowed to be a reflection of all attributes of society."
And there is large contrast between the critics' and audiences' opinions on "Mom's Night Out." According to the film review aggregation site Rotten Tomatoes, the movie received a 15 percent rating from the professional critics and an 86 percent from audience-goers.
Feminist writer Marianne Schnall, author of "What Will It Take to Make a Woman President? Conversations About Women, Leadership and Power," said she was not surprised by the harsh reaction of critics, given the questions raised over "some fairly sexist messages" in the movie, and she welcomed further conversation about the issue of gender relations in general.
"Being feminist does not mean you don't believe in the idea of the stay-at-home mom," she said. "It means we support the notion that all women have fair and equitable options for employment, parenting, etc., [and] are able to make choices that reflect our true wishes for ourselves and our lives."
Follow @holliesmckay on Twitter