Meghan Markle's estranged half-sister reportedly 'in talks' with producers to turn her tell-all into a film or TV show
NEWYou can now listen to Fox News articles!
Meghan Markle's estranged half-sister Samantha Grant may be causing more trouble for the new Duchess of Sussex.
Grant is reportedly in talks with Hollywood producers to turn her tell-all book into a film or TV series.
The 53-year-old did not immediately respond to Fox News' request for comment Sunday.
Grant told UK's The Sun Friday she is considering selling the rights of her yet unreleased autobiography, titled "The Diary of Princess Pushy's Sister."
"I have been approached to sell the rights," she told the publication.
However, Grant slammed rumors of the family allegedly pitching a Kardashian-style reality TV series titled "Meet the Markles."
"That's crazy," she said. "I put a joke out about a year ago. I said someone should do a reality show called 'Meet the Markles.' I guess they are casting people, but it never involved me."
The news came just days after Grant's boyfriend Mark Phillips told TMZ a "paparazzi confrontation" forced the couple to swerve their car into a concrete barrier near a toll booth in Florida. Grant shared an image of herself at the hospital.
However, Lieutenant Kim Montes, a spokeswoman for Florida Highway Patrol Troop D, told Fox News they've been unable to find any record of such an event taking place, despite citizens being legally obligated to call 911 in the event of a car accident in which there was property damage.
Montes noted the detail of the crash taking place near a toll both helped narrow the investigation significantly as there are only so many roads that fit the couple's description. There have been no reports of damage to a concrete barrier.
Montes added that because no report has been filed and no evidence of the event has been found, there's no justification for authorities to open an investigation into Grant's claims at this time.
Back in January, Grant told Fox News her memoir doesn't slam Markle, who married Britain's Prince Harry on Saturday.
"I have to say, my book's not what all of these people are saying it is," she said. "Just because it has the word 'pushy' doesn't mean it's a slamming tell-all… I was making fun of the tabloids.
"And I think she believed that I was slamming her and writing a nasty tell-all… My sister is not pushy. I was making fun of the media and the tabloids in choosing that title. My goal is really to show how lovely and amazing she is. I look forward to the both of us hopefully laughing over this."
Grant said her book is one that will honor both the former "Suits" star and the royal family.
"My book is honoring, warm, witty and something that I think both my sister and the royal family would be proud of," she said. "And when we're all dead 100 years from now, hopefully, people who read it would not only be proud of it but will feel enlightened in a positive way. And it was my goal to leave something good on the planet when we're all gone.
"I want her to have peace and happiness in her marriage without wondering if someone out there is going to drop a negative, disgusting, disparaging bomb. That's not the case. I love her… I would never do that to her, to myself or to future generations. I don't believe in putting out filthy, damaging literature to the world."
Grant admitted the last time she spoke to Markle was in 2014. Still, the half-sister has caused lots of chaos for her famous younger sibling.
Grant recently revealed on Twitter she came up with the idea to have their father, Thomas Markle, be photographed in Mexico, where he lives.
The patriarch, who was confirmed to walk Markle down the aisle, told TMZ he wouldn't be attending the wedding after suffering from a heart attack, as well as the fallout over the photographed which he admitted were staged. Harry's father Prince Charles took Thomas' place and walked Markle halfway down the aisle.
"The bad press over my father doing staged photos is my fault," Grant tweeted. "The media was unfairly making him look bad so I suggested he do positive photos for his benefit and the benefit of the royal family."
She added, "We had no idea he would be taken advantage of. It was not for money."
According to the Daily Mail, Markle's father received $135,000 for the photos, which included him getting fit for a suit for the wedding.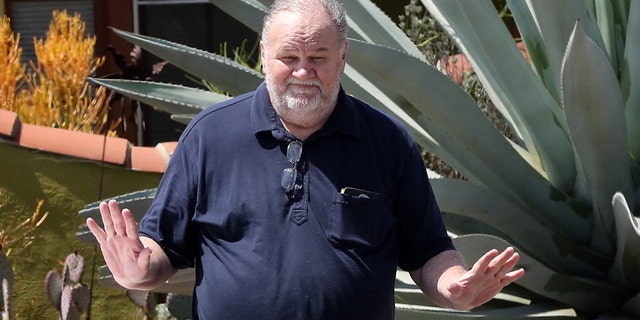 However, Grant insisted her father didn't call the paparazzi for money.
"I'm entirely the culprit," she said. "I said to him to show the world 'I'm getting in shape and getting healthy' so I suggested it," she admitted on Britain's "Loose Women."
TMZ reported Grant, who wasn't invited to the royal wedding, hosted a viewing party at her Florida home with her boyfriend and some friends.
Grant previously told Fox News she and her family are new to the spotlight and it can be difficult to cope with the worldwide interest in their personal lives.
"As much as I love and respect Meg, she's got security and a publicist and can be protected from all that," she said. "She and Harry can tell the media to stop. The rest of the family doesn't have that luxury. I love her, [but] she may not want me saying anything.
"I refuse to be a victim of the media. I'm not going to let them disparage me, embarrass me personally and professionally and not defend myself… I can only hope she would respect and understand that… In fact, if I were Meg, I would probably put something out there so that there was some sort of protective mechanism in place where the family couldn't be tortured as much."
Grant added she's an "outspoken" and "sensitive person" who has to defend herself and her family, whether Markle likes it or not.
"The media was getting out of hand," she said. "Maybe that's how the royals do business. And I guess as a family, we will experience that. But as a family, we've always been free-thinking Americans culturally raised in freedom of speech… We have our own lives and interesting stories to share."