Maya Rudolph jokes new show will have 'a lot of nudity'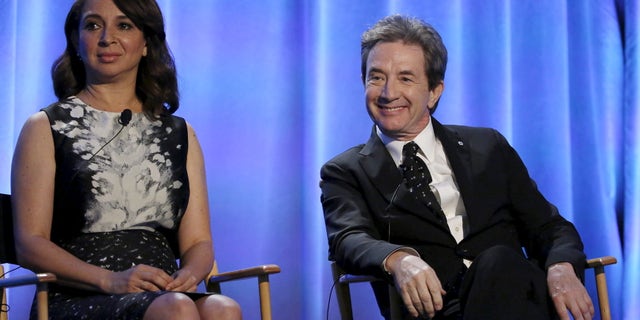 NEWYou can now listen to Fox News articles!
LOS ANGELES – Comedians Martin Short and Maya Rudolph are teaming again for NBC's newly announced series, "Maya & Marty."
The duo showed off their comedic chemistry after they were paired together in a skit for "Saturday Night Live's" 40th Anniversary special last year. The duo explained their new show was born after their "SNL" collaboration.
"There was no pilot to our show — except I would say the '40th anniversary,'" Short said
The new show is striving to model itself after the "SNL" special
"It was a show that had endless surprises because it had such a large amount of people guesting on it — that's kind of what we're striving for," he said. "We're contacting everyone. Between Lorne (Michaels), Maya and I, we've met a lot of people that seem to be interested in appearing on the show."
Rudolph joked that "a lot of nudity, non-stop. Full frontal. Full back-al" would be seen during the season. She then went on to praise her co-star Short for the comedic skills he brings to the table.
"In a situation like this, you have to know you have a great partner," she said. "I know I'm going to be funny when I'm with someone who is far funnier than I am."
Short added that the chemistry between two hosts could be stronger than a joke.
"It's great that the jokes are great but even if they're not perfect, if you feel the two people are having a great time … that's more contagious than a well-structured joke."
In 2014 Rudolph starred in a variety special, and she is ecstatic to be working with someone who also understands the talent as much as she does.
"I just wanted for a long time, after I left 'SNL,' to find a way to continue that and do what I think we were raised and what we started out in and what is the best possible place for what we both do because we're both performers," she said. "That was the natural desire for doing my variety show before. But it was just a pilot. I was really just waiting till it was right. And it wasn't right until I made a glass loafer and I went around the kingdom and looking for somebody who would fit."
"Maya & Marty" premieres May 31st on NBC.