Maxim cover girl Lana Zakocela: 'I didn't want to do all the supersexy stuff'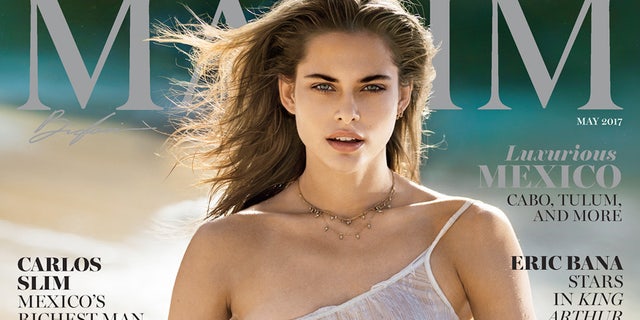 NEWYou can now listen to Fox News articles!
Lana Zakocela is making a big splash as Maxim's cover girl for the mag's May 2017 issue, but the Latvia-born model, represented by The Lions, insisted that she wants to be recognized for more than just her coveted looks.
"I didn't want to do all the supersexy stuff," Zakocela told Maxim. "I always felt, not shy, but it's a funny thing to put on high heels and underwear for a magazine. You can do that in a bedroom with your man… [Magazines today] make it so open. They leave no space for imagination. I'm more European. I'll shoot underwear, but if it's sophisticated."
Zakocela is also the face of Antonio Banderas' fragrance "Queen of Seduction."
"I don't even know what beauty is," she told Maxim. "It's all about mathematical balance. I feel I am very lucky and I really appreciate it. I think, 'Why me?'"
HOW NICOLE TRUNFIO ENDED UP BREASTFEEDING ON THE COVER OF ELLE AUSTRALIA
Zakocela, who arrived to England by bus at age 16 and has been working internationally ever since, participated in the Sports Illustrated Swimsuit Issue 2017 casting call. But these days she is more interested these days in becoming an actress.
"I don't want to do this without getting into theater first, because everyone is going to be like, 'She's got it so easy," explained the model.
However, it did help to get some encouragement from Banderas, a veteran Hollywood actor.
FOLLOW US ON FACEBOOK FOR MORE ENTERTAINMENT NEWS
"Antonio and I worked together for four days… At the time, I had a boyfriend, and he didn't want me to be an actress because they have quite crazy lives. But Antonio said, 'You have to do this. It doesn't matter about your accent."
Zakocela is now single.
"I decided for three months to disappear from the New York scene," she said. "I went to Paris. You find out who is truly your friend. Everyone is texting 'Let's have dinner,' 'Let's have lunch.' Those people wouldn't care if something happens to me. I have to really stop and evaluate everything."
She hasn't ruled out on finding romance again with a new beau, though.
"Very well educated, very sensitive," said Zakocela on her ideal man. "A man who wants to take on the world… I want the type of man who can make me better… I have to make sure the person appreciates me for who I am and understands where I am coming from."