Lori Loughlin bonds with daughter Isabella after college admissions scandal left Olivia Jade 'distraught'
Lori Loughlin bonded with her daughter Isabella on Friday amid the fallout of the college admissions scandal, but is still reportedly estranged from her younger daughter, YouTube star Olivia Jade.
Loughlin, 54, laughed it up with Isabella, 19, while they waited for their valet to bring their car around.
Video captured by TMZ shows the "Fuller House" star and her daughter smiling and chortling loudly in Beverly Hills.
LORI LOUGHLIN WON'T SPEAK ABOUT COLLEGE ADMISSIONS SCANDAL
Meanwhile, Olivia Jade is reportedly livid with Loughlin and Mossimo Giannulli for their allegedly bribing their daughters' ways in to USC for a cool $500,000 a piece. Loughlin and Giannulli, 55, reportedly paid William "Rick" Singer to get Olivia Jade and Isabella recruited to the USC crew team despite neither girl being a rower.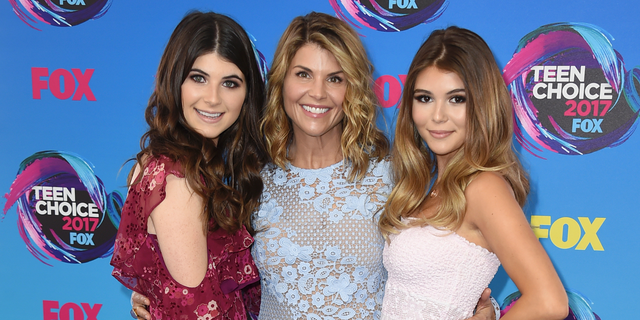 Loughlin and Giannulli were each arrested and released on $1 million bonds. They appeared in court in Boston on Wednesday, where they surrendered their passports.
LORI LOUGHLIN SIGNS AUTOGRAPHS AHEAD OF COURT HEARING IN COLLEGE ADMISSIONS SCANDAL
Olivia Jade lost endorsement deals from brands including TreSemme and Sephora after the scandal broke.
"Olivia is still distraught and embarrassed. She hasn't been home much," a source told People. "She is very angry with her parents. She just wants to figure out how she can rebuild her brand."
OLIVIA JADE SAID HER PARENTS LECTURED HER ABOUT ONLY HAVING ONE REPUTATION
"Olivia had her own life and business. She was always very driven and worked very hard to achieve what she had," the source continued. "This was her passion. She was honest about that she didn't really care about school. But her business, she was always very serious about. She most certainly will find a way to start over again. She isn't someone that gives up easily."
CLICK HERE TO GET THE FOX NEWS APP
The source reiterated that Olivia Jade blames her parents for essentially ruining her life, griping, "She would have never gone along with it if she thought this would happen. Her thing is that she trusted her parents. Olivia spends most of her time with close friends and her boyfriend [musician Jackson Guthry]."