Layoffs at OWN test relationship between Oprah and Discovery network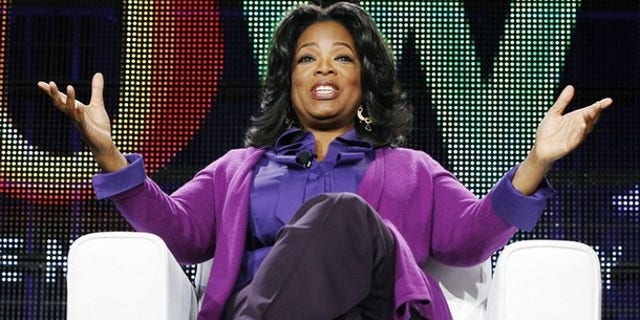 Oprah Winfrey is used to running the show, whether it was her hit daytime TV program or the fledgling cable channel named for her and which she rules as chairman and chief executive.
But this week's Oprah Winfrey Network shakeup, which included a 20 percent staff layoff, thrusts her into a new dynamic: power-sharing with a top executive from the company that's bankrolled OWN with $300 million-plus.
It's a crucial moment for the media queen, who made OWN her next big move after "The Oprah Winfrey Show," and for OWN itself: Can Winfrey work as an effective corporate teammate with partner Discovery Communications to turn the struggling channel around?
There's another bedrock question: Does a big enough audience exist for the earnest, uplifting fare on Winfrey's OWN, so antithetical to the blowsy charms of popular, sensational reality shows like cable's "Jersey Shore" and `'Keeping Up With the Kardashians?"
As important as control might be to Winfrey, she's also a savvy businesswoman and has been willing to take advice before -- and not just from Dr. Oz, Dr. Phil or her other TV health and wealth proteges. Her syndicated talk show's distributor made sure she stayed on track.
"In the past, when she was becoming too `New Age,' or becoming too distant, which can come with celebrity and wealth, the folks at King World would do a survey" and pass the results to her, said Bill Carroll, an expert in the syndication market for media consulting firm Katz Media.
As a smart broadcaster, Winfrey heard the public "and adjusted to what they were saying," Carroll said.
Winfrey started off slowly with OWN, busy wrapping her talk show's 25-year run last fall with much hoopla. She began exerting more control after leaving daytime, and as part of the executive turnover that began five months after OWN's January 2011 debut to disappointing ratings.
Christina Norman, who was dismissed as CEO in May 2011, had expressed hope that, within its first year, OWN would reach an average of about 400,000 viewers in prime-time among women ages 25-to-54. That would have been a doubling of the prime-time audience in that demo for Discovery Health, the channel OWN replaced.
For the year to date, OWN is averaging 318,000 total viewers in prime-time, a 9 percent increase over the same period last year.
It was philosophy, not numbers, that Winfrey focused on at the channel's launch. She was insistent that OWN would represent her talk show's message of self-empowerment writ large across an entire channel.
"What if I could take every hero who inspired me, every lesson that motivated me, every opportunity that was ever given to me and give it to you," Winfrey said in a promotional spot for OWN that showed her beaming against a computer-generated blue sky dotted by soaring balloons and puffy clouds.
Worthy, but is that entertainment? The high-water mark for OWN so far was the 3.5 million viewers for Winfrey's exclusive interview with Bobbi Kristina Brown, Whitney Houston's daughter, which aired earlier this month. The interview, while sensitively done, spun off the tabloid-tragic end to Houston's checkered life.
(It was also a reminder of the forum that Winfrey's talk show once gave celebrities who wanted to explain themselves. Former U.S. Rep. Anthony Weiner's agonized, post-Oprah speeches about lewd texts and photos were no substitute for possible absolution by Winfrey.)
For viewer Mamie Kwayie of Chicago, OWN's selling point is programs like "Oprah's Master Class."
"These shows work because they're infused with Ms. Winfrey's core platform for meaningful messages and impactful storytelling," she said in an email.
Such programs strike others as virtuous but dull, among them Robert Thompson, director of the Bleier Center for Television and Popular Culture at Syracuse University.
"You have to admire Oprah for this, but it doesn't seem she's willing to put the kinds of shows on that the channel really needs," Thompson said. "What OWN needs is `Jersey Shore.' What OWN needs is `Real Housewives,' a splashy program that everyone watches and talks about, that may have questionable elements."
"It seems the kind of spectacular reality show that OWN needs is one that seems to be outside the definition of what OWN will accept," he said.
OWN can find a middle ground, countered Discovery spokesman David Leavy.
"There's a lot of white space between `Jersey Shore' and `Housewives.' Good programming doesn't need to be as salacious as that," he said, citing "Undercover Boss" as an example.
Let Oprah be Oprah, said one viewer, Charles W. Rawls III, a Winfrey admirer -- and a realist.
"I want programming that will share what she stands for. But that may not be what the masses want and advertisers are willing to pay for," said Rawls, a marketing manager in Philadelphia.
For a successful woman, one who thinks and lives big, Winfrey has entered new territory.
The overhaul announced this week, including the layoffs of 30 staffers intended to reduce redundancies between Discovery and its partner in OWN, Winfrey's Harpo Inc., brought Neal Kirsch, chief financial officer of Discovery's U.S. networks, to OWN as chief operating officer and CFO.
(OWN launched with a 150-person staff double that of the typical cable channel, another invitation to trim.)
In January, Discovery Fit & Health executive Rita Mullen was brought in on an interim basis to work on programming and development after the departure of Lisa Erspamer from OWN.
Their work is cut out for them.
Discovery's annual report filed in February said there will be "significant additional funding to OWN" that will exceed its earnings over the next two years. That will mean adding to the $312 million Discovery has given the venture so far, the report said. Discovery CEO David Zaslav told analysts he expects the channel to become a "significant asset," and cited growth in revenue streams, including advertising.
Discovery owns 50 percent of OWN but Winfrey holds operational rights when it comes to programming, marketing and decision-making authority for key management positions, according to Discovery's filing. Beginning in 2016, she can require Discovery to "purchase all or part of (her) interest in OWN," it said.
"Ultimately, it's Oprah's network. A lot of the policy decisions are with her," said analyst Brad Adgate of media consultants Horizon Media Inc.
Winfrey's real contribution will come in front of the camera, not from behind a desk, suggested analyst Carroll.
"She is what viewers are asking for. If she's there, they're there. If she isn't, they're not," he said.