'Last Man Standing' star Tim Allen says it's 'nobody's business' what he thinks about politics
LOS ANGELES – Tim Allen is speaking out again about his role as the openly conservative Mike Baxter in FOX's new hit sitcom "Last Man Standing" and the comparisons fans make between his character's political views and Allen's real-life persona.
The funnyman explained to Fox News that while he shares many traits with Baxter, he is dissimilar to the character he portrays on television.
"When you get into this world — these two guys are not the same guy. You know, Mike Baxter is much more tolerant of other ideas than me on stage. Me, personally — Tim Allen is nobody's business, and really, who cares what I think," he told Fox News earlier this month during a PaleyFest interview for "Last Man Standing" in Beverly Hills, Calif.
TIM ALLEN ON THE DIFFICULTY OF TRYING NOT TO OFFEND PEOPLE: 'IT'S LIKE DANCING ON THE THINNEST OF ICE'
"Really, in my stand-up it has nothing to do with it. My comedy has been the same since I've been doing it for 33 years and it's about the ultimate political divide — [between] men and women. I've been doing that — and that's all it's about. And underneath all of that is that you just don't get the other side, but you love the other side."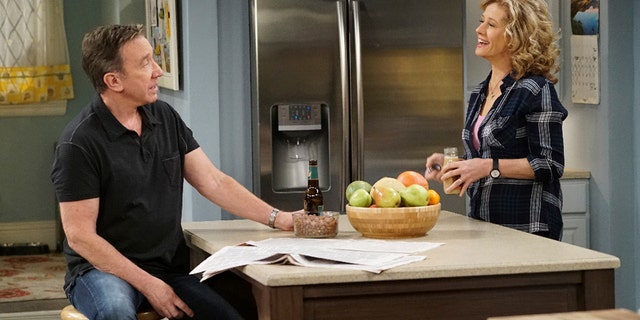 Allen, 65, also said he can't help but have a vested interest in the ongoing spectacle of politics, Hollywood and comedy. He compared the topics to addiction while pointing out that he personally knows a lot of politicians.
"The difference with now is just this is like an addiction of some sort. When I see people, I don't like being pushed into a corner," he said. "I'm an anarchist, basically. That's what stand-up comedy has done to me. I'm alone on the stage by myself, I don't owe anybody anything."
TIM ALLEN SPEAKS OUT ABOUT ROSEANNE BARR FIRING: 'THAT'S NOT THE WOMAN I KNOW'
He continued: "I happen to be a sober guy for 22 years — I understand addiction and to me, that's what this feels like. People have got that anger and that angst going and you've gotta stand back a little bit and we're able to do that, and we've always been able to do that. We're just about being funny! This whole thing's about being funny."
However, despite "Last Man Standing" having a right-leaning lead, the "Toolman" pointed out that the only goal of the series is delivering enjoyable family content while giving viewers the edgy and memorable moments the show is known for.
"When it comes down to it — we legitimately have more liberal writers than we have conservative writers," he revealed. "They write funny stuff, and everybody has learned a little bit about how to tweak it and give people a little zest here and there — but it's all about the theater."
When pressed on whether anything is considered off-limits within the writer's room, Allen offered up an interesting analogy in response.
TIM ALLEN'S 'LAST MAN STANDING' MOCKS NETWORK CHANGE IN NEW TEASER
"I don't know if I've said this — I took a debate class in college. You can't debate whether God exists or not because the side that doesn't agree will never agree. And the debate captain will tell you that you have to be able to switch sides and take the other stand."
Allen's co-star, Nancy Travis, chimed in and clarified that the show never aimed to lean one way or the other, but that they're simply breeding conversation among people.
"We're creating entertainment. We're not grandstanding, we're not presenting a platform, we're not trying to sway opinion," she exclaimed. "We're just telling stories, that's it. And this a story about a family. So, in that realm, I just don't think we would even get to a place where it's 'making a statement.'"
Season 7 of "Last Man Standing" will make its network debut Sept. 28. on FOX.