Kate Middleton Always Looks Good, No Matter How Late She Parties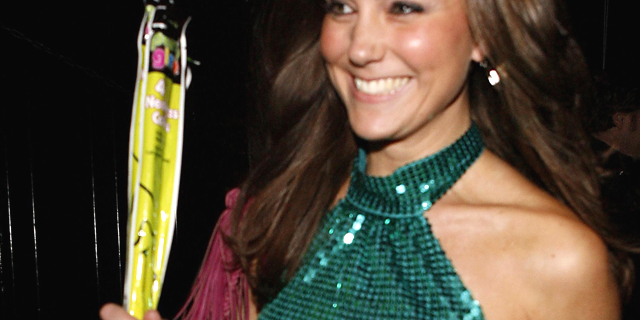 She's a country girl who loves the late-night club scene. A reluctant fashion icon who says she doesn't fuss over her clothes -- but looks stunning in just about anything.
Kate Middleton has kept her thoughts to herself and a circle of trusted friends during her long romance with Prince William.
Until she spoke out about her love for the 28-year-old prince and her admiration for his mother, the late Princess Diana, on the day their engagement was announced, Middleton had kept totally mum about her relationship and her thoughts about joining "The Firm," as the royal family is popularly known.
So who is the future queen, and what matters to her?
Only her closest friends know if she has hoped for years to marry William, as some schoolmates say -- pointing out that she went out of her way to catch his eye their freshmen year at college. Or if she was content in her role as the on-again, off-again girlfriend of one of the most eligible men in the world.
In the absence of words there have been images.
Kate glamorous in evening wear, Kate lounging on a yacht in a white bikini and -- most surprisingly -- Kate in black bra and panties topped by a sheer dress at a charity fashion show in early 2002, when she and the prince were just friends. That event prompted William, according to biographer Katie Nicholl, to tell a friend that "Kate's hot."
Shortly afterward, Nicholl said, the prince made his move, setting in motion the events leading to next year's gala royal wedding.
After romance blossomed, Middleton made an effort to keep out of the public eye so she and William could enjoy each other's company in private, Nicholl said.
"They tucked themselves away," she told The Associated Press. "They ordered curries from the local curry shop at the end of the road. They called in DVDs. They had a very successful understanding that they would never be photographed together, they wouldn't be pictured holding hands. When they turned up together, it was separately. And that stood them in good stead. They could keep that relationship clandestine for the best part of a year."
It has not always been smooth sailing. The prince pursued several other young women while dating Middleton, and the college sweethearts separated several times over the years -- once in 2004, when William reportedly complained of claustrophobia in the months before graduation; and later in 2007, when William was photographed dancing the night away with other women at nightclubs.
Middleton, 28, now describes that as an unhappy time, but she did not sit home and mope. She was photographed partying in a thigh-skimming mini-dress with friends and devoted time to training for a challenging charity rowboat race.
The couple soon reunited -- and have spent as much time together as possible since, although William has been busy with his military training, which often keeps him away for weeks at a time.
Now that their relationship is back on track -- and her entry into the royal inner circle assured -- Middleton's family background is coming under increased scrutiny.
She is a commoner who does not come from the highest segment of British aristocracy, where birth has been rewarded with great wealth for generations. But Middleton's parents have made millions from their party supply business, Party Pieces.
They live in Bucklebury, a pleasant village that is part suburbia and part rural England, where most of the ample houses are obscured by high hedges. It is a place where many drive Range Rovers -- at about $100,000 a pop -- to make it easier to ford the dirt roads when they occasionally flood.
Middleton, an avid sportswoman who likes to ski and hike, is popular there, mostly because she has not put on airs since getting close to William.
Local resident Brian Ward said Middleton is ready for her new role.
"She is well suited," he said. "Lots of people round here know her very well because she is a very ordinary girl and she goes down the local pub. Our cricket team used to use the pub down there as their base in the season, and on a Sunday she'd be in there and she'd talk to us as she would anyone else. No one would ever know who she was."
The party business, based in nearby Yattendon, is a family affair, with Kate and her sister Pippa and brother James helping out.
Still, there has been some sniping, with catty references to her mother's work as a flight attendant before she and her husband started Party Pieces. But Middleton, now sporting a half-million-dollar rock on her ring finger, may have the last laugh.
"I think people are incredibly snobby when it comes to her family, who seem hardworking and interesting and interested people," said Richard Dennen, a friend of the couple from their days at the University of St. Andrews in Scotland.
"Historically, kings in this country have married out of their gene pool. In recent history, when they've married members of the aristocracy, I don't think it's worked out particularly well."
It is inevitable that Middleton will become a fashion icon who will be compared to Diana, who graced thousands of magazine covers around the world before her death.
Middleton has managed to retain a squeaky clean image despite a penchant for the night life when she and William are in London.
They are inveterate clubbers, often seen in London's priciest venues, where they are usually welcomed like -- well -- royalty. But Middleton nearly always leaves looking her best, so the paparazzi photos of her are invariably flattering, even if William sometimes looks the worse for wear.
It may be the magic of youth -- or the blessings of good bone structure -- but Middleton seems to project joie de vivre, not Keith Richards-style decadence, even when leaving posh nightclubs at 2 or 3 in the morning.
There is no question that Middleton faces a wrenching transition from private citizen to royal. Unlike Princess Diana, however, she has had years to get ready and has already received some coaching on how to deal with the constant media scrutiny and the ever-present paparazzi.
She also has a university education, which Diana -- only 20 when she became Princess of Wales -- never obtained. Middleton earned a degree in art history, which was William's focus before he switched to geography.
"She is the best prepared princess for the future that there has been," said Robert Jobson, author of "William and Kate: The Love Story." "She has had a chance to get to understand what is going on inside and outside the royal family."