Justin Timberlake's bad audio during Super Bowl halftime show has fans upset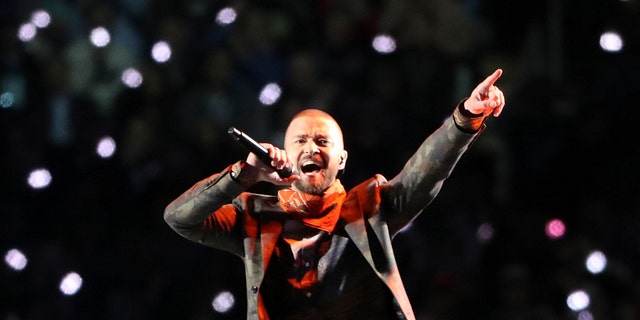 Justin Timberlake was the star of Sunday night's Super Bowl halftime show, and while the performer wooed some fans with his performance, audio troubles made it difficult for the singer to successfully "bring sexy back."
During the Super Bowl LII's halftime show, fans took to Twitter express their frustration with Timberlake's miserable sound mixing, that caused the three-time halftime show veteran to have a somewhat muffled performance.
Throughout Timberlake's 14-minute show, the singer performed older hits such as "Rock Your Body," "Cry Me A River," and "Sexy Back," in addition to his newer songs including "Can't Stop The Feeling" and "Filthy." The "Trolls" singer also paid tribute to the Minneapolis native Prince, singing the musical legend's iconic song, "I Would Die 4 U." The tribute featured a giant video projection of Prince performing in his signature purple get up, in the midst of a glowing purple stadium. Some fans were unhappy with the tribute.
But the worst part of the Super Bowl spectacular? It was hard to hear.
One Twitter user said, "I sure hope Timberlake's audio is crappy. Otherwise, I've turned into an old lady saying 'What's he saying?'"
Another tweeted, "...Audio on that was garbage. They did the whole Prince thing which was wrong. RIP."
Other annoyed viewers shared their similar sentiments.
But despite running into audio issues, Timberlake did manage to entertain the crowd with his old school dance moves, larger than life bands, many, many mirrors to turn the city of Minneapolis purple.
Better to have an audio malfunction than a wardrobe one.