Justin Bieber Gets Big Jesus Christ Tattoo on His Leg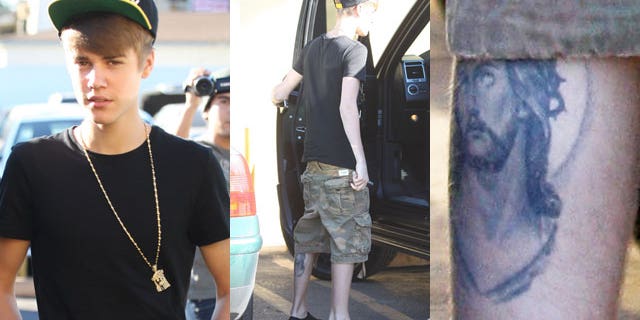 Justin Bieber has made a lifelong commitment to Jesus Christ – with a tattoo.
The 17-year-old "Baby" singer was spied on a Los Angeles beach on Jan. 5 sporting a large portrait of the Son of God on his left calf.
The black ink portrait, which is approximately about 5" tall, appears to be inspired by an illustration for "The Mysteries of the Crown of Thorns," written by a Passionist Father in 1879.
Click here for more Justin Bieber photos from X17 Online.
While not quite of legal age (California law states that tattooing of minors is prohibited ), this isn't Bieber's first tattoo. He now has three tats in his growing collection, including "Jesus" written in Hebrew on his rib cage and a tiny bird on his left hip.
"I'm a Christian, I believe in God, I believe that Jesus died on a cross for my sins," Biber told the Associated Press in 2010. "I believe that I have a relationship and I'm able to talk to him and really, he's the reason I'm here, so I definitely have to remember that. As soon as I start forgetting, I've got to click back and be like, you know, this is why I'm here."