Jimmy Kimmel's advocacy for liberal causes on late night show not against current FCC rules
ABC's "Jimmy Kimmel Live" opened with a heartfelt monologue on Monday night in response to Sunday's tragic attack in Las Vegas, which is now the deadliest mass shooting in American history. Kimmel teared up as he discussed horror that occurred in his hometown in a now-viral soliloquy that is closer to advocacy than comedy.
Late-night comedians used to provide an escape for Americans who wanted to be entertained before hitting the sack. Sure, Jay Leno and David Letterman poked fun at Bill Clinton and George W. Bush, but it appeared good natured and bi-partisan. Lately, some late-night hosts have used their platform to unload left-leaning opinions on viewers who don't necessarily live in New York or Los Angeles, where the shows are based.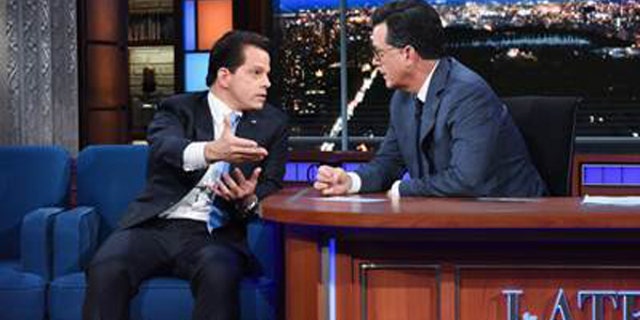 Before the gun control monologue, Kimmel emerged as an outspoken proponent the Republican Congress' attempt to undo the Affordable Care Act and was even thanked by many liberals when the bill was eventually killed.
Earlier this month, Politico reported that Kimmel spent 24 minutes of air time over a three-night span fighting the bill. CNN analyst Bill Carter, who has written books on late night TV, said the ABC host "has to be acknowledged as a legitimate factor," in a story headlined, "Did Jimmy Kimmel kill the health care bill?"
Newsweek published a story that said Kimmel was "killing the Republican healthcare bill" and "delighting his viewers in the process," while a New York Times op-ed columnist tweeted that "Kimmel has evidently done more homework on health than any Republican senator over the past 8 years."
While Kimmel is using his platform on Disney's ABC to offer political commentary, there isn't much anyone can do about it aside from the network's decision makers. The FCC's equal time rule doesn't apply to Kimmel, as he is discussing a partisan viewpoint as opposed to giving time to a specific candidate for office. The Fairness Doctrine, an FCC regulation that forced broadcast networks to give equal time to both sides of controversial issues, was eliminated in 2011.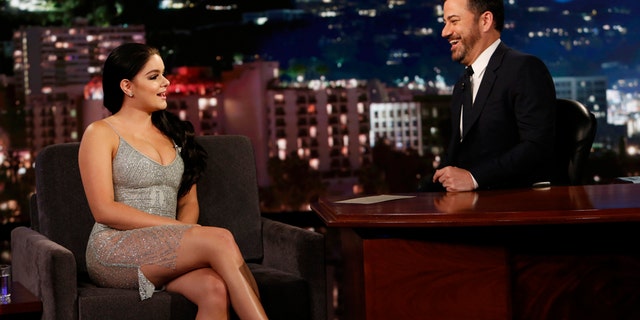 Media Research Center News Analyst Kristine Marsh pointed out that other ABC shows, such as "Good Morning America," have replayed Kimmel's gun control monologue.
"With the help of the media promoting his propagandizing on their own daytime news shows, it's no wonder the entertainer is now treated as a policy expert rather than what he actually is, a comedian who is aiding the left-wing media's mission to mislead viewers on this difficult subject," Marsh wrote.
CBS' "The Late Show with Stephen Colbert" is nakedly anti-Trump, but he mocks the president with satire and humor. Kimmel makes no attempt to be funny when delivering political messages. On Monday, he noted that a bill was signed earlier this year that "made it easier for people with severe mental illness to buy guns" before targeting lawmakers and the National Rifle Association.
"Senate Majority Leader Mitch McConnell, Speaker of the House Paul Ryan, a number of other lawmakers who won't do anything about this because the NRA has their balls in a money clip, also sent their thoughts and their prayers today, which is good. They should be praying," Kimmel said. "They should be praying for God to forgive them for letting the gun lobby run this country, because it's so crazy."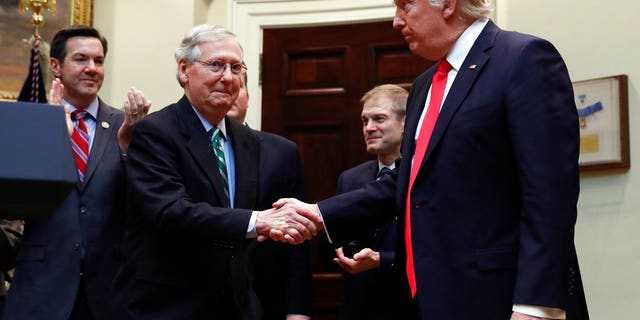 NBC's "The Tonight Show starring Jimmy Fallon" has been criticized for not being political enough. The New York Times even published a story last May headlined, "Jimmy Fallon was on top of the world. Then came Trump," that points to Fallon's viewership drop during Trump's presidency. Colbert, who rose to fame mocking conservatives, beat Fallon in total viewers last season, with many experts pointing to politics as the reason for his success.
Variety senior TV reporter Daniel Holloway thinks that Kimmel's politically charged monologues are also good for business.
"Kimmel scored rare victories over Colbert and Fallon in the advertiser-coveted 18-49 demo on Sept. 25, after ACA repeal fell apart, and again Monday night, on the heels of the mass shooting in Las Vegas. There's obvious interest in what he has to say after big, politically charged news events," Holloway told Fox News. "If Kimmel's monologues continue to generate buzz, it's possible that he'll begin to outperform 'The Tonight Show' on a more regular basis."
It's no surprise that ABC would be the network to allow its late-night host to deliver political monologues, as the Disney-owned company recently skipped coverage of immigration activists interrupting House Minority Leader Nancy Pelosi and President Trump accused ABC News anchor Martha Raddatz of crying on Election Night after he won (which the veteran journalist denied).
The network's chief anchor, George Stephanopoulos, was forced to recuse himself from moderating presidential debates for not disclosing a substantial donation to Clinton's charitable organization back in 2015 and its Chief Foreign Correspondent, Terry Moran, has shifted from reporter to pundit.
ABC's entertainment division also has come under fire for canceling Tim Allen's "Last Man Standing," after the star expressed conservative views, although ABC president of Entertainment Channing Dungey told reporters that "politics had absolutely nothing to do with it." The network also has been criticized for several shows that mock traditional values such as "The Real O'Neals" which made fun of Irish Catholics and "When We Rise" which was widely criticized for portraying Middle America as homophobic.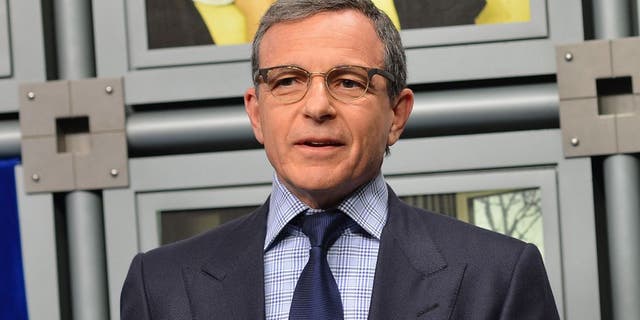 In addition, Disney-owned ESPN has been accused of having a significant liberal bias, and when The Washington Post recently ranked the top 15 possible 2020 Democratic candidates -- Disney Chairman and CEO Bob Iger was ranked No. 11, ahead of actual politicians such as Tim Kaine and Deval Patrick.