It Could Take Ten Years for Lindsay Lohan's Career to Recover, Experts Say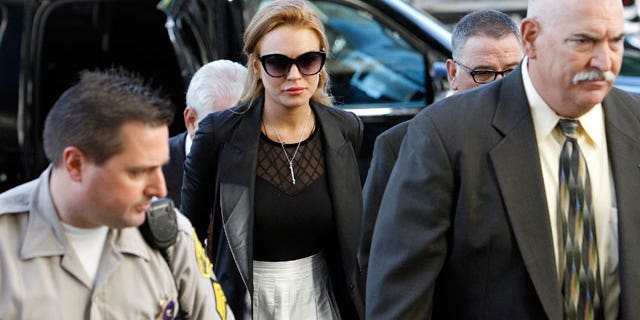 Lindsay Lohan is still in big trouble.
Despite her release from jail on $300,000 bail late Friday night, experts say the actress is going to have a hard time finding work acting anytime soon.
"Lindsay is immensely talented, but the big problem is going to be insuring her for the next ten years," Los Angeles Criminal Defense Attorney, Mark Geragos, told Pop Tarts. "She is absolutely uninsurable even if a studio was willing to take the risk and hire her, so in this case its only time that can heal."
Geragos also said that Lohan would have to stay "absolutely clean and sober" for a minimum period of five years for an insurance company to even consider a coverage plan for her.
But according to Hollywood Pop Culture Expert Peter Shankman, the way the 24-year-old has been behaving she will simply be lucky to be alive in ten years time.
"This was the final straw – look at it from a money perspective, this isn't about her. The 'Linda Lovelace' production took a gamble on her, which they've now lost. She's completely unemployable. I hope she can make it to 30," he said.
Lohan was scheduled to start shooting "Inferno," a biopic about 1970's porn star Linda Lovelace, on November 15, however given the actress's latest court dealing it seems serious doubt will now be cast over that production.
So could this really be the end of Lohan's on-screen career? After all, her looks and talent might very well be questionable in a decade's time, especially given her history of hard partying.
"I'll worry a lot more about Lindsay Lohan's marketability once she's no longer young and attractive. Hollywood can be less forgiving of women who age than women who do drugs and get into trouble," journalist and media consultant Jenny Hontz said.
Furthermore, she doesn't exactly have Academy Awards attached to her name.
"Unfortunately, should Lohan ever clean herself up enough to return to acting, she will require a significant insurance policy common for troubled actors. This is a huge disincentive to Hollywood producers who, today, face a tight rein on production expenses. Lohan's body of work is hardly that of Marilyn Monroe or John Belushi, so she may find she misses out on roles because studios prefer to find alternatives that are more reliable," added Jason Maloni, a Crisis Communications Specialist at Levick Strategic Communications.
And from a financial perspective, the scenario seems pretty dire for the troubled starlet.
According to an inside source, Lohan is well over $2 million dollars in debt (why she couldn't afford to hire another lawyer following Shawn Chapman Holley's desire to resign after she first sentenced to jail in July.)
Still, Hontz believes that so long as there is still media and public interest in Lohan, and that money and work opportunities will always exist.
"Notoriety is often just as lucrative as fame. It all comes down to the bottom line in Hollywood. If studios think she can sell a movie, they will hire her. There are plenty of Hollywood stars who get into trouble for drugs and continue working or at least make comebacks after they get clean," she explained. "And even if her film career implodes, there are other ways for her to capitalize on her fame to make money. As long as the public is fascinated by her, The Lindsay Lohan brand will probably continue to exist. The 'Disney Child Star Turned Bad Girl' is her brand at the moment."
Additional reporting from Deidre Behar