In the FOXlight: Celebrating the 10th anniversary of 'Wicked' with two if its big stars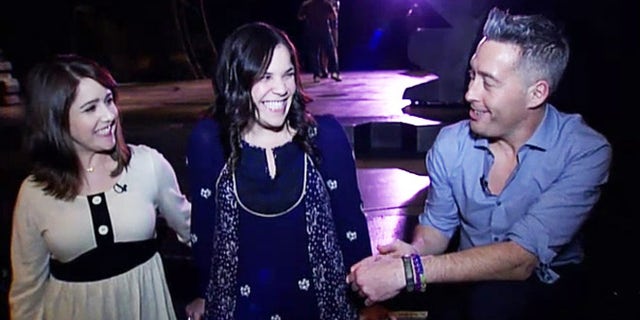 NEW YORK – Hey folks, welcome to this week's In the FOXlight. Halloween may have been days ago, but we're still recovering! But that's perhaps another column.
In all seriousness, what better way to celebrate Halloween than by going behind the scenes of the Broadway smash hit "Wicked"? You do it on the occasion of the shows 10th Anniversary, that's how!
For 10 years, "Wicked" has defied 'gravity,' leaving fans soaring to new heights night after night. But here's the thing: When the curtain went down on opening night in 2003, critics were downright witchy. "Overproduced," "overblown," and "meandering" were some of the criticisms the following morning. But 38 million theatergoers and $3.1 billion in ticket sales, and nine touring companies around the world later, "Wicked" is a triumph for the fans over the critics. Legions of fans around the world found something in the story, something to relate to, and told the critics in a resounding voice, WRONG! Ya gotta love that.
So what a thrill it was for me, prior to getting a backstage tour, to sit on the edge of the newly renovated Gershwin Theater with the latest actresses to take the helm of their respective bubble and broom: the very lovely and talented Alli Mauzey, the 14th Glinda, and Lindsay Mendez, the production's 15th Elphaba.
On being part of the show…
LM: Oh man, it has really been such an honor for both of us to get to be here and playing these iconic roles and celebrating 10 years of this incredible show on Broadway.
On their favorite song to perform…
AM: It's always nice to get to "For Good," yeah, I think, and it's just a very simple part of the show, but its so poignant.. its really funny to play with Lindsay in "Popular," that I get to sing, because its fun to compare the audience reactions and sometimes try and make Lindsay laugh. And she will make me laugh, even though I'm the one singing.
On having a mishap during the show…
LM: I have not defied gravity one time and it was my own fault… and you just work with it and the audience usually just really loves it because they know she should fly and they were supportive and loved and now they're like I was there when she didn't fly.
AM: I swallowed a bubble recently. The bubble that Glinda flies in in the beginning, it shoots all these bubble out, and I got one stuck in my throat. Which is like death to a singer, so it was really hard to get sound.
On their first big break…
AM: I made my Broadway debut in "Hairspray" and I joined the actor's union, so that is what I guess you say a break.
LM: I did a couple of Broadway shows and last season I did an off-Broadway show called "Dog Fight" that was directed by Joe Montello, who also directed "Wicked." And that was kind of the first time I got lead a show and get seen as an actress.
Walking around backstage, we were struck by the camaraderie among the cast and crew. They really seemed to carry on like a family, and were all to willing and eager to outfit me for Halloween, Oz style. See the video for that one, folks.
Because the fans have played such a huge part of the success of "Wicked," the show kicked off its 10th Anniversary Celebration with "30 days of Flight," where they gave back to their fans night after night leading up to the big night, October 30th. The night after, on Halloween, on the way to dinner at the nearby Palm restaurant, I happened to be passing by the Gershwin, where hundreds camp out prior to each show, looking for a chance at getting tickets through a lottery. It was like a party, with kids young and old cheering and jumping with joy because they had been told their tickets were on the house. Even after the anniversary, the show is still giving back, which probably accounts for the reason that 10 years later, the enthusiasm for "Wicked" is as fresh as opening night.
And because here at FOX we firmly believe in our mantra -- We report. You decide. -- we asked you if you have seen "Wicked," what you thought, and this is what you some of you had to say…
That's it for this week's edition of The FOXLight. Catch ya next time.