'Idol' recap: Skylar Laine leaves; Lopez defends 16-year-old Jessica Sanchez's racy outfit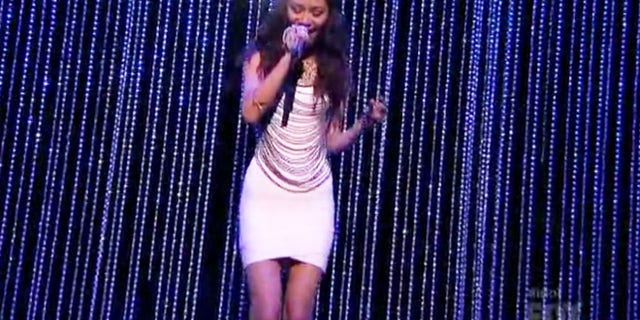 NEWYou can now listen to Fox News articles!
LOS ANGELES – Skylar Laine, the gunslingin' "firecracker" from Brandon, Mississippi took her final bow on "American Idol" Thursday night after receiving the smallest share of the 60 million votes cast by the viewing audience.
"It's hard to lose anybody," noted judge Jennifer Lopez. "Losing anybody is really tough right now."
After host Ryan Seacrest announced that Laine was going home, judge Steven Tyler was seen shaking his head with disappointment as Lopez scrunched her face into a sad pout.
As Laine sang her farewell song, "Gunpowder and Lead," Hollie Cavanagh–who also landed in the Bottom Two with Laine–wiped away tears. Lopez also dabbed wetness from her eyes.
QA: Skylar Laine says she's "relieved" to be off "Idol."
Laine, who earned consistent praise from the judges for her feisty stage presence throughout the season, failed to win over "Idol" fans with her spunky rendition of Creedence Clearwater Revival's "Fortunate Son" on Wednesday night.
"She had great energy on 'Fortunate Son,'" opined "Idol" mentor Jimmy Iovine. "I believe she could have understood the lyrics a little bit more, because those lyrics are very, very, very powerful."
Laine's take on Dusty Springfield's "You Don't Have to Say You Love Me" left Iovine underwhelmed.
"That's the one performance I've seen her do that I really wasn't thrilled with," noted the chairman of Interscope Geffen A&M Records. "She doesn't deserve to go home because of that–but it was less than I know she's capable of."
PHOTOS: Summer Blockbuster Bikini Babes.
Joshua Ledet–one of the best singers of the past 50 years, if you believe Lopez–was declared safe at the top of the results show.
"Of course Joshua is safe tonight," said Iovine. "This kid deserves greatness."
Fan favorite Phillip Phillips sailed through to safety–despite delivering a pair of pedestrian performances.
"This week, I think he did two very bland songs," said Iovine. "You have to be willing to fail in order to really win. I feel Phillip's been coasting."
To drive the point home, Iovine added, "In my opinion, on performances alone... (made the motion–and sound effect–of a knife being slit across his throat)"
Iovine was also concerned about Jessica Sanchez dressing far older than her sixteen years.
[pullquote]
"That dress was too mature for her," said Iovine of the tight, white bandage and chain dress Sanchez wore during her performance of "Proud Mary."
"I believe there were a lot of people at home last night who felt uncomfortable."
The man who helped guide the careers of Eminem and Lady Gaga added that Sanchez's performance bordered on burlesque. "Stylists – what are you doing? You're torpedoing this girl."
Lopez, meanwhile, defended Sanchez's racy look.
"The heels are very high and everything," explained Lopez. "That might be a lot for certain people to swallow across Middle America. We're in show business–we have a whole different standard. It's more acceptable here."
"It was a little over the top," conceded judge Randy Jackson.
One thing the judges can all agree on – this is one of the best "American Idol" seasons ever.
"The Top Five has never been better than this – never," said Tyler, shortly before it was announced that Laine was leaving the show. "Thank you for letting us feel your music."
Up next: The Final Four perform.