Mosaic MSC is a worship band from Los Angeles, and while they are most known for their worship song, "Tremble," their new music is getting attention.
Robbie Aholoka, a singer, songwriter for the worship group who grew up in the church, was surprised when he first came to Mosaic, a church founded by Pastor Erwin McManus. In his most broken state, the 31-year-old worship leader found wholeness.
LA PASTOR SHARES BATTLE WITH ANXIETY, CANCER AND HIS MISSION TO FIND 'INNER PEACE'
On the heels of their nationwide tour with Travis Greene, Mosaic MSC members, Mariah McManus and Robbie Aholoka, sat down with Fox News to talk about what it's like to worship Jesus in the heart of Hollywood and push the boundaries of worship music.
"'This is worship? It could be this, too? It could be fun? You could actually dance to it?" Aholoka said. "When I heard the music, the worship, Jesus just made sense to me."
'THE SEND' MARKS START OF 'GREATEST JESUS MOVEMENT,' OVER 40,000 CHRISTIANS GATHER, COMMIT TO MISSIONS
MSC, made up of a collection of over 100 artists within the Hollywood church's community, makes their music to appeal to everyone, even those who don't worship.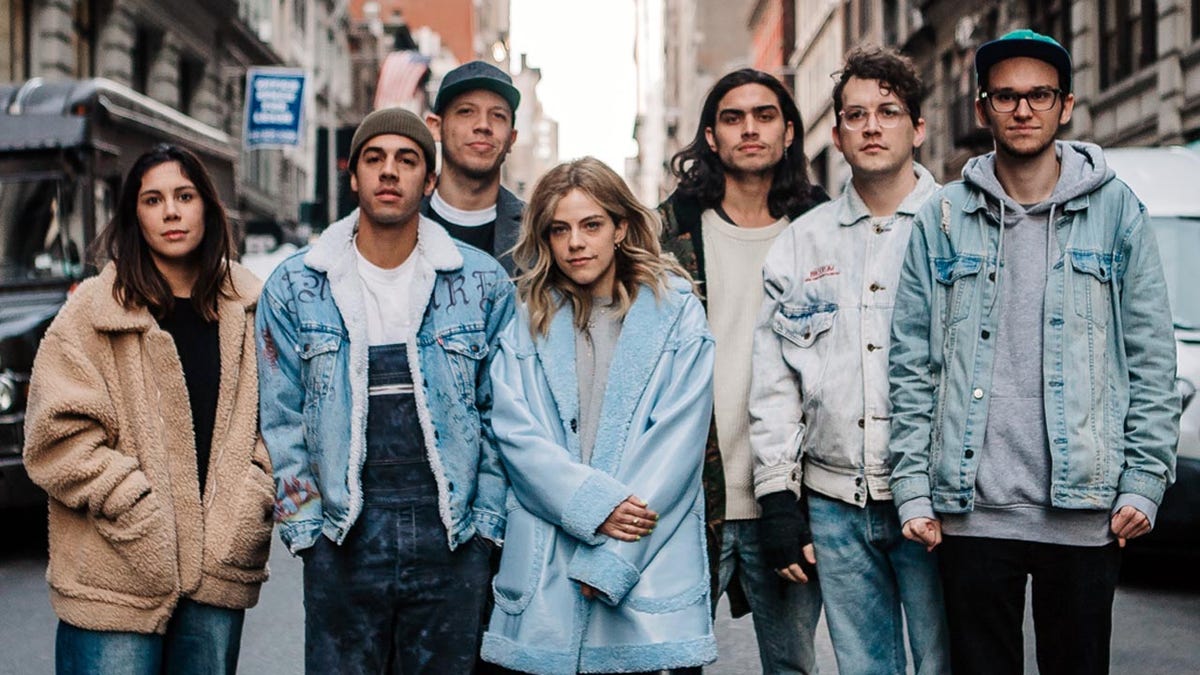 "It's a crazy balance of such an important message and also something fun," he added.
Mariah McManus, Mosaic worship pastor and the daughter of Erwin McManus, said they sing about the Lord, but also have fun.
2-YEAR-OLD'S 'MIRACLE' HEALING SPARKED WORSHIP ANTHEM: 'WE BELIEVE IN THE POWER OF PRAISE'
"We laugh way too much and we're so loud everywhere – it really is because Jesus has changed our lives," she said.
And that's the aim for all their worship songs.
CONTEMPORARY CHRISTIAN ARTISTS SEE 'THIRD GREAT AWAKENING' COMING
"How do we bring our best piece of art to Jesus?" McManus said. "How do we take it in a completely different direction and do something we've never heard or never considered to do within worship music?"
And on their new album, "Heaven," McManus said their song "Eyes on You" was a "direction shift" for all the songs that followed.
"We had a different perspective on what worship should sound like."
Their song, "15," about the biblical story of the prodigal son, started out as a joke but turned into a worship song about Jesus, something Aholoka said isn't that rare for the group.
CLICK HERE TO GET THE FOX NEWS APP
For a story typically viewed in a somber way, the group decided to look at it as a celebration.
"I never thought you could think of it as something fun, like 'oh wow Jesus is chasing after me,'" Aholoka said. "I dance to that song so hard every time but I almost cry every time we sing it, too."
NOTORIOUS GANG LEADER NOW PREACHES JESUS: 'I'M A RADICAL SOLDIER FOR GOD'
The band that started off leading worship in a Los Angeles nightclub is going back to playing in clubs along the tour.
"We're used to being in clubs – like Mosaic started in a night club. I'm like, that's where you do church, you don't church anywhere else," Mariah joked. "It's like a gross nightclub. It feels very much like L.A. and …just to go anywhere and say, 'yeah we belong here,' it doesn't matter if it's a club or a church, it's just something special that we get to do."
WORSHIP LEADER BEGAN FOSTERING BECAUSE 'THE LORD STARTED TO SPEAK TO US'
While the worship collective has fun, it's not at the expense of their message.
"I hope, more than anything," she said, "people experience the joy and the kindness of who Jesus is."