Grammys say 'we do,' get political with mass wedding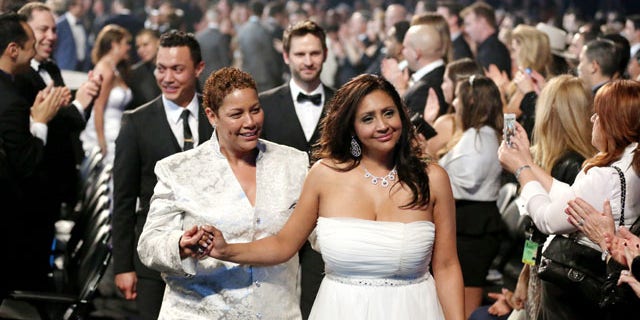 This year, the Grammy Awards weren't just about the music, they were also about making a statement in the same-sex marriage debate.
Heavily hyped in the hours leading up to Sunday night's show, 34 couples -- both gay and straight -- exchanged rings and said "I do," as officiated on stage by Queen Latifah. The actress/rapper/talk show host was recently deputized by Los Angeles County to legally conduct wedding ceremonies and will sign the marriage certificates for each couple.
The event took place on a stage set to resemble a giant chapel with stained-glass windows during a performance by hip-hop duo Macklemore & Ryan Lewis, in which they sang their hit tune "Same Love," a song embraced by the LGBT community last year.
One of the couples who tied-the-knot was Lewis's sister Laura and her boyfriend Alex.
"The right-wing conservatives think it's a decision/And you can be cured with some treatment and religion/Man-made rewiring of a predisposition," Macklemore rapped. "Playing God, aw nah here we go/America the brave still fears what we don't know/And God loves all his children, is somehow forgotten/But we paraphrase a book written 3500 years ago."
Madonna later joined the matrimonial moment in an all-white suit, singing a portion of her heyday hit "Open Your Heart."
The group wedding ceremony was met with a standing ovation by the Grammy crowd, with Keith Urban even caught teary-eyed by the roving camera.
And many viewers at home also advocated a thumbs-up with tweets such as "so beautiful & so proud of couples not afraid to marry who they want... Straight gay black white... Love is Love."
Others, however, viewed the Grammy show-stopper as both inappropriate for a music awards show and a blatant attack on religious values.
"Why can't the event just be about the music? So tired of political and social messages being infused into everything," one tweeted. Others referred to it as "anti-Christian" and "propaganda," while another weighed in: "I don't care if they are gay or straight this is wrong. Quit shoving your leftist agenda down my throat. Enough is enough."
But it seems that is exactly what producers and the forces behind the Grammys intended to achieve: debate, emotion and even a little anger.
"I expect that people with all kinds of opinions might voice them, and that's healthy," Neil Portnow, President of the National Academy of Recording Arts and Sciences told the press ahead of the telecast.
Follow @holliesmckay on Twitter