'Glee' Star Naya Rivera Talks Demi Lovato, New Single 'Sorry'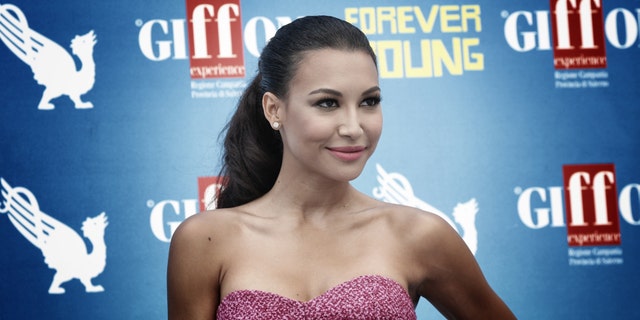 Did "Glee's" Naya Rivera and new onscreen love interest Demi Lovato practice before shooting their kissing scene on the show?
The 26-year-old actress jokingly told "Access Hollywood's" Billy Bush and Kit Hoover they did.
"I made out with her in my trailer before the shoot, so I warmed her up," Rivera said, adding that her real-life boyfriend rapper Big Sean was sorry he missed the shoot. "He was like 'I'm out of town. I'm jealous.'"
Dishing about her new costar, Rivera said: "She's awesome and we're having a blast. We are so happy to have her."
The duo will appear together in the upcoming season of "Glee" which returns on Sept. 26. Rivera said they will be singing "Here Comes The Sun" for the show's two-episode Beatles tribute. The full studio version was recently released online.
Rivera also recently dropped her new single "Sorry" on iTunes featuring Big Sean, along with a lyric video featuring many naked women dancers. On the single's cover photo, taken by Terry Richardson, Rivera flashes a little underboob.
She said working with Big Sean on the record was "really good."
"He has been doing this a lot longer professionally. He is so talented," Rivera said. "I think he really added something special to the song."
On a more serious note, Rivera also briefly spoke about the show's tribute to co-star Cory Monteith, who died of an overdose in July 2013. She said she was in London when she heard the news of his death.
"It's just absolutely shocking. Completely floored me," she said. "I still don't like – I still can't believe it."
The TV show's third episode for this season will feature a tribute to Monteith and his character Finn Hudson. Rivera said it was devastating and difficult to film in memory of his longtime friend.
"It was difficult," she said. "I think we are doing a good job with the episode and it's important to do because there are so many fans who love him just as much as we do, but it's still hard."
Monteith, who was 31 when he died, will also be honored at the Emmys on Sunday along with "Sopranos" actor James Gandolfini, Jean Stapleton and producer Gary David Goldberg.
Follow us on twitter.com/foxnewslatino
Like us at facebook.com/foxnewslatino