Gisele Bundchen Reignites Debate Over Baby Girl's Ear Piercings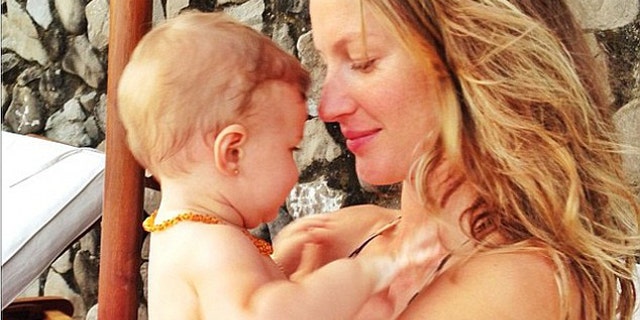 Gisele Bundchen posted a sweet picture with her 7-month-old daughter that has somehow become the focus of an ongoing cultural debate.
The picture in question shows the supermodel lovingly gazing at her baby girl, Vivian Lake, while she holds her in her arms. This is her second child with New England Patriots' quarterback Tom Brady, with whom she also shares a 4-year-old son, Benjamin.
So what's so wrong about that? Apparently, the fact that Bunchden has pierced her infant's ears.
The latest image shared by Bunchden on her Instagram account has added fuel to an ongoing fiery debate among mommy bloggers across the country.
Adriana Velez pointed out on the blog "The Stir" that even though little girls getting their ears pierced is a cultural norm among Latinos, "people are going to get their panties in a twist over it anyway."
She added that she and her sisters all had their ears pierced as infants — "Glad I had it done when I was just a baby," she noted.
"I have no memories of the 'trauma' for one thing. I know babies experience pain, but ear piercing is probably less painful than a vaccination shot," Velez wrote in her post.
"Maybe it's just because I'm Latin, but I love how little baby girls look with their wee stud earrings."
On its website, the American Academy of Pediatrics says ear piercing is safe at any age, although there is always a risk of infection.
Back in January when a letter in in the Pittsburgh Post-Gazette's advice column likened infant ear piercing to "borderline child abuse," another Latina mom advocated for the practice.
"I honestly don't understand why some people care and why some moms have made such a big deal of piercing baby's ears," Roxana Soto, co-founder of Spanglish Baby, told TODAY Moms.
"I don't care what others think," Soto added, "because we're talking about my daughter and about something completely harmless that is completely normal in my culture."
Follow us on twitter.com/foxnewslatino
Like us at facebook.com/foxnewslatino