Gina Rodriguez on Golden Globes snafu: Who cares?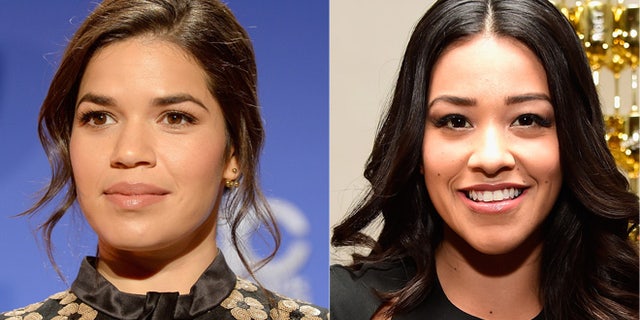 Gina Rodriguez just wants to celebrate her second Golden Globe nomination and doesn't seem too annoyed that the Hollywood Foreign Press mistook her for another actress.
Speaking to Entertainment Tonight, the "Jane the Virgin" actress asked "who cares?" when prompted to talk about how the Globes' Twitter account confused her with fellow Latina actress America Ferrera.
"I didn't hear anything until recently. Someone sent me an article, but who cares?" Rodriguez said. "America's lovely. She's so beautiful and such a fantastic actress. If there's anybody I want to get mixed up with, it's her for sure."
Ferrera, 31, made history in 2007 when she became the first Latina to win the best TV actress Golden Globe award for her work in "Ugly Betty."
Last Thursday, she was announcing the nominations for the 73rd annual ceremony when the awards show's official Twitter account wrote: ".@HereisGina is kicking off the @goldenglobe nominations announcements #GoldenGlobes"
The tweet was quickly deleted – but not before fans caught the error.
Rodriguez, also 31, took home the award last year for the first season of "Jane the Virgin" – making her the second Latina with the trophy. She said the second nomination affected her immensely.
"The Hollywood Foreign Press Association changed my life last year, like entirely," Rodriguez said to ET. "I don't feel like I could have ever have asked for any more. So this morning, when I heard my name called, I fell to the kitchen floor and started crying."
This is the not first time that a major award show's social media confused two Latina stars.
At the Academy Awards in 2014, the Academy of Motion Picture Arts & Sciences had a case of mistaken identity when they mistook Penelope Cruz for Salma Hayek in a backstage photo.