'DWTS' romance: Has France train hero Alek Skarlatos fallen for dancer who busted his nose?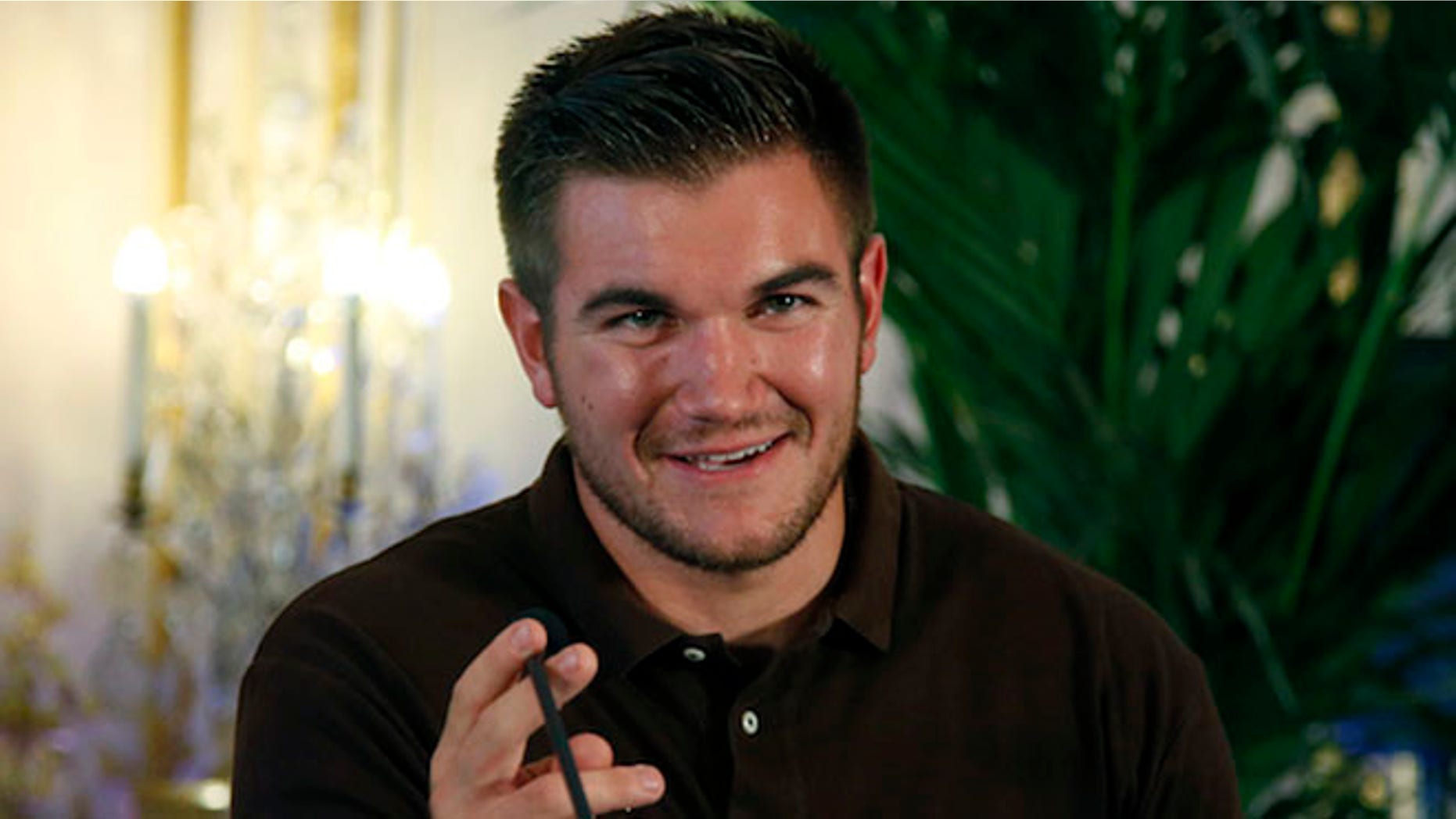 Alek Skarlatos has gone through a nightmarish couple of weeks while competing on "Dancing with the Stars."
First, a deranged gunman attacked his Oregon community college. Then, his fellow train hero and best friend Spencer Stone was stabbed multiple times in a bizarre Sacramento street skirmish.
While Skarlatos has tried to stay strong, things took a new turn on Monday, when it was feared his dance partner Emma Slater had broken his nose in rehearsal.
But the gutsy military man not only performed with Slater during the show's week five "switch up," in which the celebrities change dance partners, he might have found love.
In rehearsal footage aired on Monday's "DWTS," viewers saw Skarlatos dancing with Slater instead of his usual partner Lindsay Arnold (who is married).
There was a lot of sexual tension in the studio as Skarlatos, 23, told the cameras about pro dancer Slater, 26, "She's super attractive, [in fact] she's too hot. I can't keep my cool."
They earned 29 out of 40 points for their sexy rumba on Monday night and hostess Erin Andrews suggested the two, who are both single, go out on a date.
After the show, Skarlatos admitted of dancing with Slater for the week, "It was a surprise, but in a good way. I was stoked!"
Slater told reporters, "This is a happy partnership for the switch up.  When we found out we got each other, we knew it was going to be awesome.
"Chemistry is so valuable in this competition," she said.
When Skarlatos was asked what his perfect date would look like with Slater, he smiled, "Probably a quiet dinner as a first date and maybe some flowers."
Slater admitted, "We share a lot of common interests. It's been a really good week. I honestly had a blast."
The pro dancer said she traveled with Skarlatos to his hometown of Roseburg, Ore., where a gunman killed nine people at Umpqua Community College on October 1. Skarlatos had been enrolled as a student there before going on "DWTS."
Despite Skarlatos' continuing sadness for his community, he found comfort in showing Slater the natural beauty of his home state.
"He looked after me a lot," Slater told FOX411. "He took me to see three waterfalls."
Skarlatos laughed that Slater, who is British, would always mispronounce Toketee Falls as "taquito," like a rolled taco.
"Apparently taquito is Mexican food," Slater said.
Skarlatos replied, "She didn't know that."
Meanwhile, Slater taught Skarlatos some British expressions during their week together.
"[I told him], 'You have a dab hand,' meaning you're good at this move. He says, 'What's that mean?" she noted.
But all fun aside, Slater later gave Skarlatos' nose a mighty whack in rehearsal as her elbow accidentally collided with his face.
"She decided it was a little misshapen so she fixed it for me," he joked to reporters, then added, "[I'm in a] little bit [of pain] but it's not bad."
However, the train hero still planned to consult a doctor on Tuesday to see if his nose is broken.
Skarlatos also filled in reporters about his pal Stone, who is in the hospital after being brutally stabbed.  The "DWTS" competitor went to visit Stone in Sacramento over the weekend.
"Considering what happened, he's doing good," he told FOX411. "He still has a sense of humor.  I feel like he put me in a better mood for seeing him than the other way around.
"It's been a roller coaster ride, for sure. Everything good and bad has happened in the last seven weeks of my life," Skarlatos said.