Doritos' cat murdering Great Dane wins Super Bowl ad contest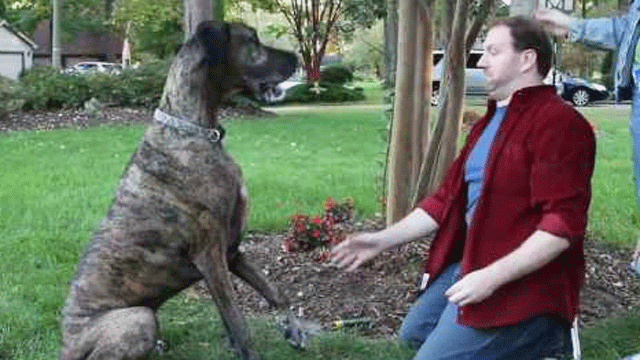 Despite all the big-money, celebrity-filled ads shown during Super Bowl Sunday, it was Doritos that came out top of the advertisers with one man and his very bad dog.
The chips and dip maker was the most effective brand to advertise during the Super Bowl XLVI telecast with its "Crash the Super Bowl" spots, Brand Bowl 2012 said.
Brand Bowl monitored 400,000 Twitter comments about the Big Game commercials and ranked them in order according to the volume of chatter they created and their popularity.
Doritos provided the laughs with its ads, especially the spot featuring a Great Dane bribing its owner with the snack after he sees the canine burying the family cat. The brand generated 48,498 tweets, 29 percent of which were positive.
In second place was a saucy black-and-white offering from fashion retailer H&M, which used the allure of an underwear-clad David Beckham to draw its audience, while a gravel-voiced Clint Eastwood talking poignantly about the US economy led Chrysler into third place overall.
At the other end of the scale, the least effective brand was Hulu, which used "Arrested Development" star Will Arnett to advertise its Hulu Plus service. It generated just 1,191 tweets, 10 percent of which were positive.
The Boston-based advertising agency Mullen and Boston.com teamed up to present Brand Bowl 2012. Mullen's chief innovation officer, Edward Boches, called it a "watershed year" for social media and the Super Bowl.
"With nearly 200 million people on Twitter and two-thirds of all smartphone owners using social media while watching TV, just about every brand built interactive elements into their commercials, knowing that the true measurement of success these days is immediate consumer reaction and long-term consumer engagement," Boches added.
Companies paid an average of $3.5 million for a 30-second spot for the right to duke it out Sunday in front of the expected 111 million-plus fans. Nearly half of the 70 Super Bowl advertisers put their spots out online in the days leading up to the game. That's a big difference from last year when only a few spots were released ahead of time.
"Advertisers this year are playing it very safe," said Tim Calkins, a professor of marketing at Northwestern University. "They're running spots that are clearly designed to appeal to a broad audience and not to offend."
Here's a look at all of the game's most notable ads, play by play:
SEX SELLS -- OR AT LEAST ADVERTISERS HOPE IT DOES
Advertisers showed a little skin in their Super Bowl.
An ad for domain name-hosting site GoDaddy shows racecar driver Danica Patrick and fitness expert Jillian Michaels body painting a nude woman. A spot for clothing retailer H&M features soccer star David Beckham in black-and-white in his undies. And online florist Teleflora and automaker Kia both use Victoria Secret's model Adriana Lima in their Super Bowl ads.
But perhaps the two most blatant examples of "letting it all hang out" came from car companies.
Toyota's spot for its "reinvented" Camry features a "reinvented" couch made up of women wearing bikinis. "It also comes in male," a voiceover in the ad says while showing a couch of shirtless men.
And among the few standouts for the night was a Fiat ad that equated seeing the car for the first time with making out with a sexy Italian super model. The tagline: "You'll never forget the first time you see one."
"They did a good job of showing that some decisions are made with the heart, some decisions are made with the head and the Italian car decision resides in the groin," said Greg Dinoto, chief creative officer of advertising agency Deutsch in New York. "It was sexy and surprising and fun."
BABIES AND DOGS, OH MY
Who doesn't love cute animals and babies? Advertisers are banking there aren't many among us.
That's why Doritos used both. One Doritos spot shows a man being bribed by a dog with the chips to keep the animal's dirty secret about a cat's disappearance. In another spot, a grandmother uses a slingshot to hoist a baby up to grab a bag of Doritos that belongs to a boy in a tree who had been taunting the baby with the chips.
Those two ads were crowd favorites, said Peter Dabol, who analyzes advertising effectiveness at research firm Ace Metrix. The firm polled 500 viewers about the ads to find the most popular.
"It's a typical Super Bowl, funny carries the day," he said. "Advertisers are driving for attention and likeability."
Likewise, Skechers shoe company introduced its new running sneaker with an ad showing a French bulldog winning a greyhound race by wearing the shoes, of course. The dog then moon walks across the finish line.
And software company 2nd Story Software's ad used toilet bowl humor, literally. The ad to promote its free TaxAct software shows a boy who looks everywhere to find a respectable place to relieve himself. He winds up going in a pool.
The tagline: "Totally free. Feels good."
THE STARS WERE OUT
Celebrities always draw attention. And advertisers took a gamble that using stars would be enough to grab attention.
Chrysler, one of nine automakers advertising during the game, aired a Super Bowl ad starring Clint Eastwood. The aging actor talks about the rebirth of Chrysler and Detroit. The two-minute "Imported from Detroit" ad, one of the few spots that weren't released before the game, follows the company's ad last year that starred rapper Eminem.
"How do we come from behind, how do we come together and how do we win?" he asks. "Detroit is showing us it can be done. What's true about them is true about all of us."
Chrysler's ad was among the few standouts on Sunday. "Those very few ads that weren't overexposed up front ended up with a real advantage," said Raymond Taylor, a professor of marketing at the Villanova School of Business in Villanova, Penn.
Meanwhile, real-estate company Century 21's ad shows that a real estate agent is able to outdo speed skater Apolo Ohno on the ice, business mogul Donald Trump in business and former football player Deion Sanders at an open house.
And in an ad for Pepsi, "The X Factor" winner Melanie Amaro belts out "Respect" for music icon Elton John, who plays a king in the spot. "Pepsi for all," she says. At the end of the ad, John finds himself in the dungeon with rapper and reality TV star Flavor Flav.
REMEMBER THAT? NOSTALGIA FACTOR
Some advertisers attempted to tug at viewers' heart strings by stirring up old, fond memories.
Honda's ad for its compact sports-utility vehicle CR-V shows actor Matthew Broderick living a grown-up version of his 1986 hit movie "Ferris Bueller's Day Off. The ad includes two dozen references to the movie.
An Acura NSX ad features 1990s comedic titan Jerry Seinfeld battling with late-night talk show host Jay Leno over the sportscar. The ad includes Seinfeld references like a cameo by the "Soup Nazi" character.
And during Downy's pre-game ad, the company remakes one of the most classic commercials of all time, Coke's 1980 spot "Mean Joe Greene." In the original, a little boy gives a gruff football player Joe Greene a Coke as he comes off the field. The Downy remake stars Greene and actress Amy Sedaris (in the little boy role) giving Greene a can of Downy fabric softener.
The AP contributed to this report.