Dark Side of Evel Knievel: Who was behind that Stars and Stripes suit?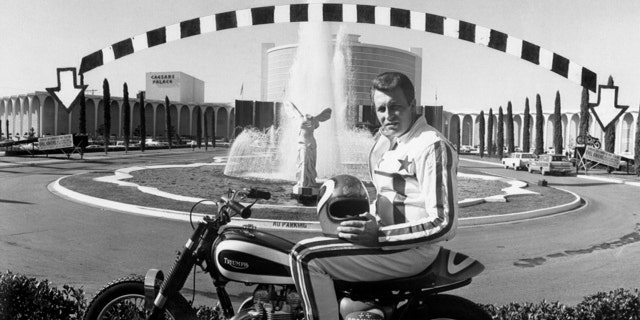 NEWYou can now listen to Fox News articles!
LOS ANGELES – Robert "Evel" Knievel is the most famous American daredevil of all time, but who was he behind the signature Stars-and-Stripes motorcycle leathers and cape? Using archival footage and new interviews with those who knew him best, the Discovery Channel has unearthed the darker side of Knievel in their new speical, "Pure Evel: American Legend."
"My friendship with him was very deep-seated… He was a complex, very highly-strung guy. There were things about him that were not admirable, he treated a lot of people badly but at the end of his life he really tried to make amends to that," Knievel's very close friend, former ABC Sports Producer Doug Wilson told FOX411. "But at one point there was no bigger name in the country than Evel Knievel. He was a marketing genius."
Yet don't you dare question his sanity in trying to jump across thirteen buses at Wembley Stadium or zoom over the Snake River in Twin Falls, Idaho.
"Evel was a showman, he wasn't afraid he was going to die. He never thought he was going to die, and he used to get angry at people who thought he was crazy," Wilson continued. "And I wasn't surprised he got into tax trouble. I remember once he wanted to show off his office building, and in the middle of the room there was a huge vault. He turned the wheel and there was this life-sized, gold-plated motorcycle. Only you couldn't see it well because it was covered in loose cash. I thought, 'who is accounting for all that money?'"
Knievel was indeed plagued by tax troubles throughout his career, with reports claiming he and his wife owed the U.S. government more than $5.3 million in taxes. Then there was the six months he served behind bars in 1977 for the assault of events and sports promoter, Shelly Saltman, not to mention the crazy crashes, failed stunts and wild outbursts . But throughout it all, Wilson insists Knievel was as authentic as they come.
"I wasn't happy with the footage we got of him signing autographs outside a hotel in London and I asked him to walk back out and do it again and he screamed at me that he wasn't an actor and he doesn't do takes. He said, 'what I do is real, you get it when you get it or you don't get it at all,'" Wilson recalled. "He was a guy who always wanted to be in charge, he was very controlling when it came to his family and business."
But in the end, it wasn't a crash gone wrong or complications from any of the career-spanning 433 broken bones that got him. In 2007 at age 69, Knievel died of pulmonary disease in Florida – although that didn't come as a huge surprise to Wilson.
"Talk about abusing your body. He drank a lot – Wild Turkey with half a bottle of aspirin. I don't think anyone expected him to live into his nineties," added Wilson. "He was having a heck of a difficult time breathing and was really in tough shape. But Evel always treated me with great respect."
"PURE EVEL: AMERICAN LEGEND" premieres on Discovery Monday, Oct 14 10PM ET/PT on the Discovery Channel.