Conan O'Brien to Debut New Late-Night Show on TBS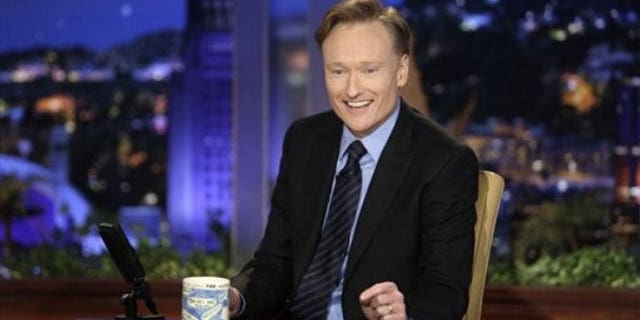 EUGENE, Ore. – Conan O'Brien, who counted his viewers in the millions on NBC's "Tonight," is playing to a small-town crowd of 2,500 -- and no TV cameras -- as he opens a two-month, nationwide comedy tour Monday.
But his absence from television will be short-lived. Just hours before O'Brien took the stage, it was announced that he will host a late-night show on TBS starting as early as November. George Lopez, already in the cable channel's lineup, will move his show to midnight to make room for O'Brien at 11 p.m. Eastern.
The comedy tour, which could have been a showcase for a potential employer -- Fox had been among the leading candidates, with cable and syndication also possibilities -- now allows O'Brien to keep his comedy sharp and promote his new network home.
For fans, it's a chance to see the star in person and discover how he performs unfettered by network broadcast standards.
He'll have a chance to hone his stage act in the Northwest and Canada before he hits bigger U.S. cities (Los Angeles, April 24-25; New York, June 2-3; the tour ends in Atlanta on June 14). With tickets priced from $40 and up, "The Legally Prohibited From Being Funny on Television Tour" is virtually sold out.
For now, the gangly redhead is news in Eugene, population about 138,000 and nestled among forests, farmlands and rivers 50 miles from the Oregon coast. It's home to the University of Oregon, Ducks football and a fair share of the region's beloved coffee kiosks and shops (Nina's Pony Espresso, among the dozen-plus here, gets points for the name).
With tongue firmly planted in cheek, O'Brien tweeted on his Twitter account Sunday night: "I'm in Eugene, OR and my room faces the theater where I debut tomorrow. The mob outside is in a frenzy."
Residents, and the O'Brien fans who have dubbed themselves members of "Team Coco," can raise a birthday cup of java to O'Brien: His show comes a week before he turns 47, on April 18.
His show "is kind of the big buzz in town. It's unusual because of the timing and everything that's gone on in late night," said Libby Tower, spokeswoman for the Hult Center for the Performing Arts that's hosting O'Brien for one night.
To recap the late-night action: O'Brien took over "Tonight" from Jay Leno last May, executing a 5-year-old NBC succession plan that failed to consider Leno might still be the ratings winner. With a desire to keep Leno in the fold, NBC tried a prime-time show with him that quickly flopped and drew affiliate ire. Then things got really messy: The network asked O'Brien to shift "Tonight" a half-hour, to midnight, to make room for a half-hour of Leno.
O'Brien refused and walked, taking with him a $32 million settlement as part of a deal that bars him from performing on TV until September and reportedly keeps him from publicly disparaging NBC -- something in which he rejoiced as his career at the network unraveled.
Although O'Brien's audience of about 2.5 million was half what Leno had drawn on "Tonight," it included more of the young adults that advertisers favor and will pay more to reach.
But no demographic group is a solid voting bloc, as O'Brien's visit to Eugene proves.
"I don't watch him, to be honest. I didn't know he was in town," said Chris Mehlenbeck, 28, chatting with friends hanging out at the Boardsports Inc. shop Sunday.
Kristen Lippstreu, 19, a University of Oregon sophomore who had stopped for a bite at Dickie Jo's Burgers, said she enjoyed O'Brien on TV but won't make it to the show because of a conflict.
"I'm in a sorority and we have our meeting Monday. That does take precedence," she said.