Chad Johnson left unemployed after VH1 drops reality show, Dolphins release him following domestic violence arrest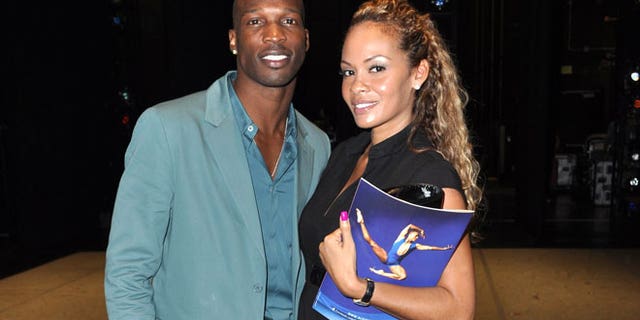 He changed his name at the request of his wife, but now Chad Johnson, formerly known as Chad "Ochocinco" may be forced to change his career in light of personal drama, as he has been released from the Miami Dolphins and VH1 has cancelled his show.
The NFL player, who married girlfriend Evelyn Lozada in front of reality show cameras last month, was arrested this weekend on suspicion of domestic violence after he allegedly head-butted his new bride in front of their home, TMZ reports.
Johnson was arrested after police found Lozada with lacerations on her forehead. She told police that she confronted her husband after finding a receipt for condoms in the trunk of their car, which turned into a heated argument. She later fled to a neighbor's house, where she called 911.
Johnson, 34, claims that he "accidentally" bumped her head with his.
He was released Sunday after spending the night in a Florida jail.
That same day, the Miami Dolphins posted a notification on their website saying "The Miami Dolphins terminated the contract of WR Chad Johnson, the team announced today."
A reality show surrounding the couple, called "Ev & Ocho" was set to premiere on Sept. 3. While it has already finished production, VH1, the network which owns it, announced Monday they would not air the program.
""Due to the unfortunate events over the weekend and the seriousness of the allegations, VH1 is pulling the series 'Ev and Ocho' from its schedule and has no current plans of airing it," the network told TMZ.
Johnson, who has been something of a reality show darling after appearing on VH1's "Ochocinco: The Ultimate Catch" and HBO's "Hard Knocks," said on an earlier episode of the HBO show that Lozada wouldn't have sex with him during his less-than-stellar season with the New England Patriots.
Lozada, star of VH1's "Basketball Wives" was previously married to NBA player Antoine Walker.
Johnson has maintained a clear record since his career began, although he was previously arrested for a domestic dispute in college.
If convicted, he faces a maximum penalty of one year in jail and a $1000 fine.