Brie Bella says she will always love John Cena 'like a brother' amid Nikki Bella split
Brie Bella broke her silence on her twin sister Nikki Bella's split with John Cena to say she will always have a special place in her heart for her almost brother-in-law.
Bella took to her Instagram story to shoot down a "false" report stating she "wants to kill" Cena after he and her twin sister split earlier this week.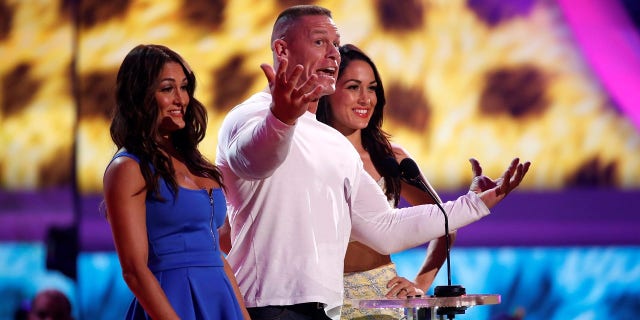 "I'd never say this and I'll always love [John Cena] like a brother," Bella wrote. "He'll always be family. My heart is hurting for he and my sister. #Truth."
JOHN CENA, NIKKI BELLA CLASHED OVER HAVING KIDS
The WWE stars called off their engagement on Sunday, saying in a joint statement that it was a "difficult" decision.
"While this decision was a difficult one, we continue to have a great deal of love and respect for one another," the couple said via Instagram. "We ask that you respect our privacy during this time in our lives."
The couple, who have been dating for six years, got engaged last year at Wrestlemania 33 and were scheduled to be married on May 5. A source, however, told E! that problems between Bella and Cena were "brewing for a while."
JOHN CENA MADE NIKKI BELLA SIGN A 75-PAGE CONTRACT BEFORE SHE MOVED IN WITH HIM
Fans also pointed to several incidents when the former couple clashed. Cena had made Bella sign a 75-page contract before she moved into his house. Cena likened it to a prenuptial agreement and said it was done to protect his finances.
Cena and Bella constantly bickered over Bella's desire to get married and have kids -- while Cena repeatedly made it clear he did not want those things.
"I do want to be a mom," Bella told her then-boyfriend Cena in a 2013 episode of "Total Divas." "I feel like I'd be missing out."