Banana Joe the affenpinscher wins Westminster Dog Show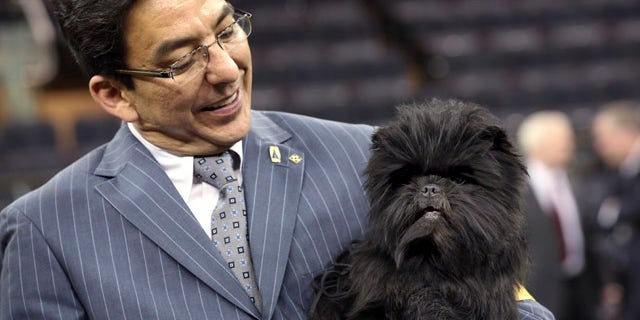 NEW YORK – The lights went dark Tuesday night in Madison Square Garden to signal that the Westminster Kennel Club Dog Show was ready to name its Best in Show winner -- and the drama didn't disappoint, as a fluffy, football-sized black affenpinscher named Banana Joe copped the top prize.
Carlos Beletore, who spent hours combing and fluffing Joe's hair, watched from the sidelines clapping and cheering as the little black dog pranced around the ring.
This win will be Joe's last as the top toy dog in the country is retiring after a long and illustrious career.
"A win would be a great way to finish his career," said Richard Green of Greenfield Kennels.
But as one champion hangs up his leash, another emerges. Best in Show runner-up and fan favorite Swagger, the Old English sheepdog, made his debut Westminster appearance Tuesday at the Garden.
"It's the start of his career," owner Colton Johnson said. 20-month-old Swagger has only ever been in four shows.
The Old English sheepdog from Colorado Springs, Colo., seemed perfectly relaxed before his Best in Show appearance, laying calmly on a table as Johnson brushed his fluffy locks.
Banana Joe and Swagger beat out five other dogs to win the titles of Best in Show and Reserve Best in Show, respectively. The other contenders, all of whom won their respective groups, were an American foxhound, a Bichon Frise, a smooth fox terrier, a German wirehaired pointer and a Portuguese water dog.
In what was perhaps an ode to President Obama as he delivered his State of the Union address, the Portuguese water dog (the same breed as Bo, the pup currently occupying the White House) was a surprise winner in the Working Group. The dog, Matisse, beat out Fifi, a doberman pinscher and crowd favorite. Fifi's fans voiced their outrage on Facebook, where 'The Fifinator' has more than 7,000 likes.
"Oh Fifi you got robbed! The judge was a Democrat to pick a dog like Obama's," one user wrote.
"Head high, Fifi," another user posted. "You are a true winner in my book!"
The German wirehaired pointer was another unexpected win in the Sporting group. Kelly Wisch, who bred and raised the winning dog, said it was surprising that such a rare breed won.
"I never thought he could do something like this," Wisch said.
The German wirehaired pointer is ranked as the nation's number one show dog.
But it was Banana Joe who took home the coveted Best in Show prize. Judge Michael Dougherty explained his decision.
"He was presented in immaculate manner," Dougherty praised. "He was on the minute he walked in. ... He's in perfect condition, perfect body."
With Tuesday's win, Banana Joe becomes the first affenpinscher to win at the country's premier dog show. The playful pooch enjoys tugging at his squeaky mouse toy -- now this champion from the toy group can put it in the prized silver bowl he won.
There were 2,721 entries in the 137th Westminster.
The Associated Press contributed to this report.